In the days leading up to Christmas, the Los Angeles Rams teamed up with Prison Fellowship Angel Tree to host a holiday celebration and gift distribution for children with incarcerated family members. Rams linebacker CLAY MATTHEWS, Punter JOHNNY HEKKER, Cheerleaders, Rampage and front office staff attended the event which featured football activities, inflatables and more.
Prison Fellowship Angel Tree, is the nation's largest non-profit organization that serves prisoners, former prisoners and their families by reaching out to the children of inmates and family members to help meet their physical, emotional and spiritual needs.
On Monday, December 23, the Rams invited 130 families for an afternoon of games and gifts at Cal Lutheran University, which is located about two Johnny Hekker punts away from the Rams' Training Facility in Thousand Oaks.
"It's just about letting them know that we care about them," said Hekker. "You need to meet them where they're at and just let them know, 'Hey, we love you and are here for you.'"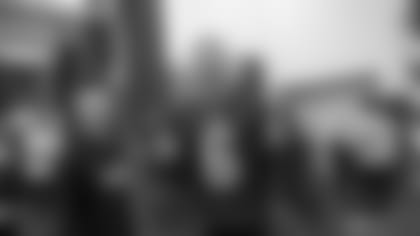 While the Rams players and staff attended and hosted the event, they also purchased the gifts for the children from wish lists submitted by the parents who are incarcerated.
"Volunteers on the outside purchase and deliver Christmas gifts on behalf of these incarcerated moms and dads for their children who live in our communities," said James Ackerman, Prison Fellowship CEO.
During the celebration, 6-time Pro Bowler Clay Matthews participated in inflatable obstacles, signed autographs and took photos with the families.
"We all had so much fun at the party," said Mary Rico, grandmother of two youth served by Prison Fellowship Angel Tree. "My boys were so excited to see Clay Matthews. We were blessed by his presence and the team's giving spirit. We're so thankful for the beautiful holiday memory and the gifts."
The support for Prison Fellowship runs in the Matthews family. Jennifer Matthews, Clay's sister, currently serves as Prison Fellowship's West Coast director of development and oversees fundraising for the western U.S. region and manages the program's sports partnerships.
"I'm extremely passionate about serving and giving back and this is an often overlooked and marginalized group," said Jennifer Matthews. "I've seen incredible change happen, both in the transformation of the lives of these individuals, as well as in the healing and restoration of their families. It's truly been an amazing thing to be a part of. I believe all the volunteers involved in our celebration felt as joyful and encouraged as the families who attended and I'm forever grateful to the Rams organization, who has been so incredibly supportive and wonderful to not only our organization, but for many others in our community."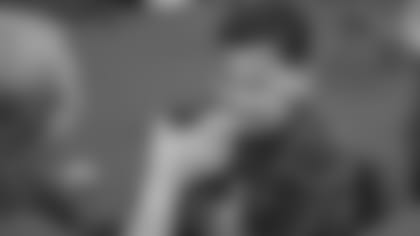 Pizza was also provided to event attendees by courtesy of Pizza Hut. The celebration was part of the Rams' second annual Community Blitz Day of Service. The team worked with community partners to host volunteer projects at various local non-profits throughout the Los Angeles community to assist Angelinos in need.
"We're really trying to give people a taste of the holidays that may not get it otherwise," said Rams COO Kevin Demoff. "When you look at Project Angel Tree and the kids who are coming to receive these gifts, it's an amazing story and a great chance for them to have the same holidays that many of us will get to experience over the next couple of days."