Brett Faryniarz discovered that it didn't help when NFL scouts showed up on the San Diego State campus with their stopwatches and notebooks a year too soon.
"After my junior year, I was 209 pounds soaking wet and then I gained weight for my senior season," Faryniarz said. "I figured I'll put on some weight and I'll look attractive to the NFL. But by then, they all had me logged in at 209 pounds as a defensive end. So I didn't get looked at a whole lot.
"I end up having 13 sacks my senior season, but still, I was undrafted (in 1988). The Rams needed a pass rusher, so I went for a tryout. And they didn't even bring me in for mini-camp. It was like, 'Just show up in the summertime.' There was a numbers game back then. I think 120 could come to camp, so I think they just put no stock in me. They just thought, 'We'll sign him, he's athletic, and maybe he's got an outside shot of making it.'"
The odds on that outside shot gradually improved during training camp when Faryniarz caught the attention of coaches and veterans alike with how well he did during drills and scrimmages.
"Basically, I was getting some sacks," Faryniarz said. "When I lined up on the line, and I'm not going to brag on myself, but Kevin Greene said, 'Brett, you've got the best spin move I've ever seen in my life.'
"I learned it from throwing the discus in high school, just that rotary. One time I threw an outside pass rush rip in college, and I got too high on the quarterback. So I spun back. It was just a counter move and it knocked the lineman off his feet. And I'm like, 'Hey, I've got something here.'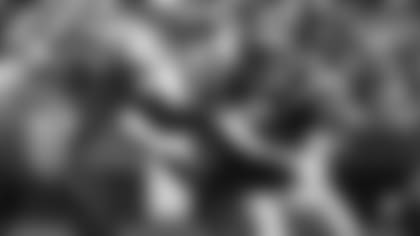 "(During one drill, Pro Bowl offensive tackle) Jackie Slater lines up. I went one-on-one against him and went with my move. He had never seen it before, and I ended up getting a sack. Well, Kevin comes up and head-butts me and says, 'Faryniarz, do you know what you just did?' I said, 'Got a sack?' And he said, 'No, you just got a sack against a future Hall of Famer.' Of course, Jackie was one of the best in the game and immediately shut it down after that."
Playing against offensive tackles far less talented than Slater during the preseason, Faryniarz, who was playing as a pass-rushing outside linebacker, kept collecting sacks. And that coupled with the mentorship he was getting from Greene, moved him up the depth chart and improved his chances of making the team.
But not without sweating it out a little bit.
"Kevin and I were rooming at the Quality Inn, a couple miles from Rams Park, where we were training. I'm getting ready to leave and I'm out the door, and the phone rings. So I unlocked the door, run in, pick up the phone, and it hung up," Faryniarz said.
"So I came back out and went to the elevator, and everybody had their heads down. And I say, 'Hey, what's going on guys?' 'Oh, we just got a phone call to bring our playbook.' They had just gotten cut. And I'm thinking. 'Oh, crap, I probably got that phone call.'
"Ray San Jose was the Grim Reaper. He would make the cuts, give you the news. And so I got (to Rams Park) and walked up to Ray thinking he's going to ask me to bring the playbook. And he said, 'Hey, Brett. How you doing?' So I walk by him and look up and I'm like, 'Thank you, Lord.'"
Faryniarz may have repeated that during Los Angeles' December 17 game against the New York Jets the following season when he had a huge game and helped the Rams win, 38-14.
"I was NFC Defensive Player of the Week. And, you know, a year and a half before that, I was a free agent that nobody gave really much of a chance to," Faryniarz said. "It was late in the season and I was tired. I went out and had three sacks, a couple fumble recoveries, a caused fumble, and a bunch of tackles. That was a pretty proud moment."
It was a proud season for the Rams, as well. Posting an 11-5 record in 1989, their best mark in four years, they advanced to the NFC Championship Game.
"We rallied together. We were a little streaky. We opened up 5-0, and then we lost four in a row, and then we just won a bunch," Faryniarz said. "Late in the year, we beat the Jets and then had to go to New England. We beat the Patriots in Week 16 in order to qualify for the playoffs. And then we went back east to Philadelphia and beat the Eagles, back (east again) to New York and beat the Giants, and then went up to San Francisco, and that was another story. (The 49ers won, 30-3).
"But Jim Everett and the receivers we had, the running backs and the offensive line, we just gelled. We had special team players that were pretty high caliber. We just played as a team. And no matter what, we just rallied. We were solid on defense and really good on offense."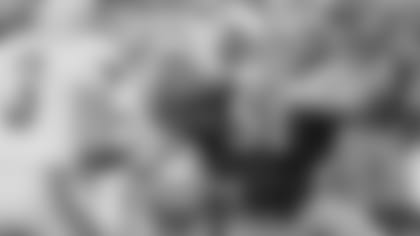 With the Rams for four seasons before finishing his seven-year career with San Francisco, Houston, and Carolina, Faryniarz then returned to the Los Angeles area to embark on a second career. He owns New Horizon Realty and Lending in Anaheim Hills, CA.
"I was in the lending business when I was in the NFL. When I retired, I finished up my degree and went into financial planning and I got bored," Faryniarz said. "So I came back into lending and started a company. I sold it in 2006, and then the market crashed in '07. I ended up flipping homes for about 10 years and got back into lending again. 
"It's mainly because I just enjoyed helping people with refinance structuring. Structuring their debts and helping them get a new fresh start in life.
"Sometimes it helps that I played in the NFL. Some people will call just because of that and they'll end up doing a loan. But I generally like to keep that separate because if I give good customer service and treat people well, I don't even care if they know that I played in the NFL. I'd rather them be more attracted to me or call me because I have a good name in the business."
The father of four sons: Noah, Seth, Jake, and Zach; Faryniarz and his wife, Kitt, split time between homes in Balboa Island, CA, and Boise, ID.
"The life experiences I've had, I've had a lot of ups and I've also been humbled when I needed to be humbled. And so I think I'm in a good place," Faryniarz said.
"I'm helping my sons in life and enjoying my marriage, and I'm enjoying my relationship with the Lord. I'm a Christian. And so all those things add up to just having a peaceful, humble, enjoyable life."