Pro Football Focus (PFF) has a team of more than 300 staffers evaluating every NFL play from the Hall of Fame game to the Super Bowl. After each game, players, as well as each team's offensive, defensive and special teams units, are graded on a scale of 0 to 100; the closer a player or unit is to 100, the better. A full explanation of their evaluation process can be found here for additional context.
Here's a look at some of the noteworthy Rams-centric assessments leading into Week 11.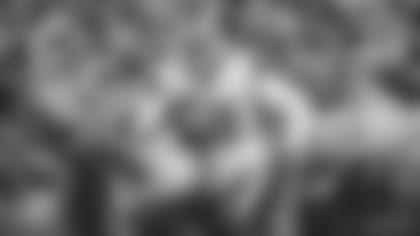 LITTLETON AN ELITE TACKLER
In a previous edition of this article series, Rams LB Cory Littleton has been recognized as one of the best in coverage at his position. That still remains the case, but now he can add another accolade: the best tackler at his position.
Littleton's tackling grade of 90.4 is highest among the 160 linebackers evaluated by PFF so far this season. A grade of 90.0 or higher is considered elite, and Littleton is the only linebacker with that high of a mark entering Week 11.
The former Washington standout is coming off his best performance since the season opener at Carolina after finishing with an overall defensive grade of 92.3 and a coverage grade of 91.3 against Pittsburgh. Perhaps not coincidentally, he reached his elite tackling grade after posting a new season best of 84.8 in that category against the Steelers – a new season-best in a single game.
MATTHEWS AMONG MOST PRODUCTIVE PASS RUSHERS
This likely comes as no surprise considering the start LB Clay Matthews got off to before his jaw injury, but his pass rush production has put him near the top of the league.
PFF's Pass Rushing Productivity rating measures pressure created on a per snap basis with weighting toward sacks. Among the 148 edge defenders evaluated by the scouting service through the first 10 weeks of the season, Matthews' 11.9 ranks fourth out.
Matthews has 7.5 sacks in seven games, meaning he's had one in every game he's played in when healthy. Those 7.5 sacks currently lead the Rams.
WHITWORTH STILL GOING STRONG IN PASS PROTECTION
LT Andrew Whitworth is in his 14th season and remains one of the best at his position when it comes to protecting the quarterback.
Per PFF, Whitworth's pass blocking grade of 79.7 is tied with the Steelers' Matt Feiler for 13th-highest among all offensive tackles this season.
His 82.2 in the same category against the Steelers last week was tops among all Rams offensive linemen who saw snaps in Week 10. It was the fourth time this season he posted a pass blocking grade of 82 or better.