Pro Football Focus (PFF) has a team of more than 300 staffers evaluating every NFL play from the Hall of Fame game to the Super Bowl. After each game, players, as well as each team's offensive, defensive and special teams units, are graded on a scale of 0 to 100; the closer a player or unit is to 100, the better. A full explanation of their evaluation process can be found here for additional context.
Here's a look at some of the noteworthy Rams-centric assessments based on PFF's evaluations through the first two weeks of the season.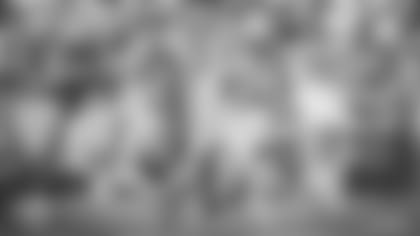 GOFF IS SHARP OVER THE MIDDLE, PERFORMING BETTER AGAINST BLITZES
PFF breaks up its passing direction charts in three parts: Outside Left, Between Numbers and Outside Right. Between Numbers, or the middle of the field, is where Rams QB Jared Goff has had the most success.
According to PFF, Goff has completed 25 of 34 passes between the numbers, good for a completion percentage of 73.5. He was 13 of 17 in the same category against the Saints.
Goff also fared better against the blitz in Week 2 with a passing grade of 82.7 in that category compared to 57.7 in Week 1. He was 6 for 6 and gained 120 of his 283 passing yards when New Orleans blitzed last Sunday.
IF HIGBEE IS UNAVAILABLE, EVERETT SHOULD HAVE NO TROUBLE FILLING IN
Head coach Sean McVay said earlier this month that versatility at the tight end position is critical to what the Rams want to do on offense. Tight ends must make plays in the pass game, be able to compete on the line of scrimmage in the run game and do some different things in terms of protection. Tyler Higbee's ability do those things on all three downs is what makes him valuable to that unit, according to McVay.
Higbee, L.A.'s starting tight end, is currently day-to-day with a lung contusion. If he is unable to play against the Rams, Pro Football Focus' recent evaluations suggest Gerald Everett will be able to seamlessly take his place.
Everett graded out as the Rams' second-best pass-blocker and run-blocker against the Saints. He also posted the second-highest offensive grade out of the eight L.A. receivers targeted by Goff.
RAPP LIVING UP TO REPUTATION AS A RELIABLE TACKLER
Leading into the season-opener at Carolina, L.A. defensive coordinator Wade Phillips said safety Taylor Rapp is proving to be exactly the player the club thought he was when they chose him in the second round in this year's draft, praising his short-area quickness and tackling ability.
Both have been on display through the first two weeks of the season.
Rapp posted the fifth-best tackling grade of any Rams defensive player in Week 1, then followed it up with the third-highest mark in Week 2. He's also had the fourth-best coverage grade in each of Los Angeles' first two games.
The Rams are deep in the secondary, but Rapp's consistency should keep earning him chances to see the field.