Pro Football Focus (PFF) has a team of more than 300 staffers evaluating every NFL play from the Hall of Fame game to the Super Bowl. After each game, players, as well as each team's offensive, defensive and special teams units, are graded on a scale of 0 to 100; the closer a player or unit is to 100, the better. A full explanation of their evaluation process can be found here for additional context.
Here's a look at some of the noteworthy Rams-centric assessments through the first four weeks of the season.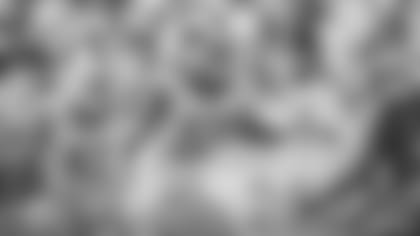 LITTLETON EXCELLING IN COVERAGE
ILB Cory Littleton has been a valuable contributor to the Rams' pass defense.
His coverage grade 90.0 is the highest of any Rams defensive player at 90.0. On a broader scale, that same coverage grade is second-highest among the 150 linebackers evaluated by PFF at the quarter mark of the season.
For the Rams, this is a positive development. Littleton switched from the MIKE inside linebacker spot to the MO inside linebacker spot, but it's clear it hasn't affected him.
DON'T UNDERESTIMATE PETERS' TACKLING ABILITY
The big play by Marcus Peters many will focus on is the interception he returned for a touchdown, and rightfully so. However, his tackling should not be overlooked.
Peters' tackling grade of 80.6 trails only Littleton's 82.2 for best on the defense. He's finished as one of the Rams' top six tacklers in three of their first four games, and the reason he doesn't have one from all four games is because he wasn't evaluated in that category against the Saints.
Yes, takeaways are important, but so too is stopping the ball carrier. Peters is good at both.
WOODS IS ONE OF RAMS' BEST BLOCKERS
This likely comes as no surprise if you saw WR Cooper Kupp's 66-yard catch against the Saints in Week 2 and the lengths fellow receiver Robert Woods went to make sure he kept going.
Through the first four games, Woods is the Rams' highest-graded run blocker and second-highest graded pass blocker. Twice, he's had the best run-blocking grade – in Los Angeles' Week 1 win at Carolina and Week 4 loss to Tampa Bay.