Los Angeles Rams outside linebacker Daniel Hardy is still relatively new to football.
Fortunately, that means he's also relatively unfamiliar with his current occupation: rehabilitating a high ankle sprain suffered August 19th.
"I had a small knee surgery back in college, but it was during COVID and nobody was playing. So I was able to make it back," Hardy said. "This is my first time really missing team activities, missing games, missing practices.
"I'm not really someone who likes to be idle. And you know, especially watching the games from home, when they're away… I'm just itching to be back out there. I want to be able to help and contribute."
A seventh-round selection in 2022, the Rams held a spot on their initial 53-man roster for Hardy before placing him on the injured list, allowing for the possibility that he could play a role as a rookie.
On Tuesday, Sean McVay didn't indicate that the Rams had any plans to open his 21-day practice window just yet. However, Hardy is now eligible to come off the injured reserve list as soon as his recovery allows.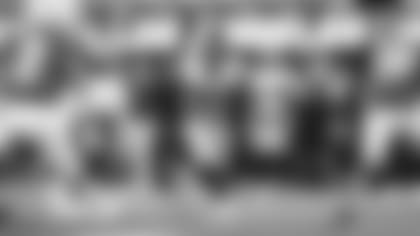 The 23-year-old's journey to the NFL was a circuitous one. An accomplished prep basketball player in the Portland area, he was "recruited" by his Valley Catholic football coach to compete as a senior. Having satisfied the academic priorities his parents established, they signed off on Hardy taking on a second sport. He immediately impressed as a two-way contributor at receiver and linebacker.
Still a relative unknown in the recruiting space, Hardy spent a season at the College of the Siskiyous in Northern California before being discovered by the staff at Montana State. In his final year as a Bobcat, he transformed his body, poured himself into the playbook, and transitioned from an inside linebacker to an edge rusher. The results were overwhelming. Hardy blossomed into an FCS All-American and a First Team All-Big Sky pick.
One of nine children, Hardy's personal story and family bond make his ascension to NFL Draft pick and Rams roster member even more moving. Staff writer Stu Jackson penned this wonderful profile back in April. We pick up the story this week on Rams Revealed, as Hardy closes in on his professional debut.