The second annual Black Sports Business Symposium (BSBS), powered by ESPN, was held April 13-15 in Atlanta, GA, at the Mercedes Benz Stadium. BSBS offers the opportunity to participate in engaging panel discussions and workshops featuring a distinguished group of sports industry experts, leaders, and innovators who offer a unique background of experiences and knowledge.
Traveling over 2,000 miles, the Los Angeles Rams showed up in Atlanta to support the symposium in a variety of ways. Rams staff attended the symposium and had the opportunity to participate in the numerous sessions. Members of the Rams Employee Experience team attended to participate in recruitment and networking sessions, educating BSBS attendees about the Rams organization and offering insight as to ways to join the team. Rams Chief Operating Officer Kevin Demoff, who helped start BSBS, moderated a panel and Rams VP of Communications Artis Twyman spoke on another.
BSBS was founded by sports industry executives HBCU Battle of the Brains Founder and Executive Director Gregory Gibson Jr. and National Football League Network Senior Correspondent Steve Wyche, alongside Demoff. They created BSBS in 2022 to diversify the sports business industry and create an intimate environment for Black sports professionals to network and connect.
The symposium included panel discussions, workshops, keynote and featured speakers, as well as intentional engagement between employers and prospective candidates, from college students and recent graduates to veterans of the c-suite. Some of the panelists that graced the stage included NASCAR Cup Series driver, Bubba Wallace, Women's Basketball Head Coach of University of South Carolina, Dawn Stanley, Broadcaster and Philanthropist of NBC, Maria Taylor, VP of Global Media and Content Partnerships of Twitter, Tj Adeshola, and many more.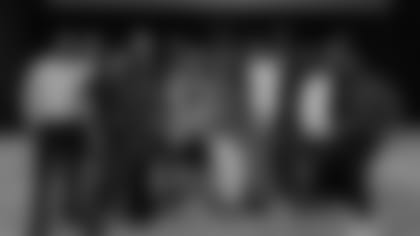 For Rams employees who participated as attendees, the discussions provided valuable insights on a wide range of topics including professional development, DEI efforts, women in sports, sports and hip hop, financial literacy and more, all from a predominately Black perspective.
"As a Black woman working in sports, being in community with women and other people of color who work in sports is very important to me," said Brittany Douglas, Rams Member Services Representative. "I wanted to attend the symposium to network and further establish my community. My Favorite panel was titled 'It's Not Just a Man's World: Female Faces In Male Spaces Part 2'. All of the panelists were equally amazing. My favorite panelist was Qiava Martinez. It was very inspiring to hear how she worked her way to SVP, Chief Sales Officer with the Las Vegas Raiders. One takeaway that I received was how important community, mentorship, and networking can be as we navigate the ebb and flow that comes with working in sports."
Kevin Demoff moderated the panel titled "Seizing the Window of Opportunity: Down to Biz". The conversation explored managing changes in relationships, expectations, skills, and perspective. The conversation also explored the mistakes professionals often make when transitioning into leadership roles, while sharing personal examples of their own transitions, including the good, bad, and fun.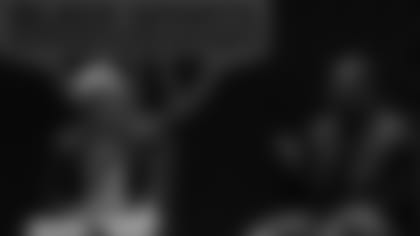 Thursday's highly anticipated keynote speaker was Rich Paul, Chief Executive Officer and Founder of KLUTCH Sports, Klutch Athletics and Head of United Talent Agency. He joined ESPN and Andscape journalist Jesse Washington for an exclusive fireside chat titled "Empowerment Through Community," which explored how to uplift athletes, creating a business, being a leader, excelling in a challenging environment and the power of innovative thinking.
"Everyone has genius within them," said Paul during the 60-minute chat. "I do not want to rest on my accomplishments. I want to continue to get better every day... I always tell people, do not let this be your last stop. You will always have a home and you can always come back, but how are we pushing people forward? That has always been my mentality. We have a ton of smart people, and I am blessed to have them, because I do not do this by myself. There's no way I could be at this level without the team, from interns and assistants to executives. I am really appreciative of that."
Artis Twyman kicked off the second day of the symposium. He spoke on the panel "Media Relations: Leading a Team's Best Interest While Managing the Public's Right to Know". During this panel, Twyman discussed supporting players when working with the media, organizational comradery, building relationships, and keeping fans engaged and in the know.
"In our building, Coach McVay has a saying that is said throughout our organization, 'We Not Me,' and I think that's the thing that you must have," said Twyman. "You have to understand, PR works together with marketing, social media, player engagement... to make everything work. You cannot work in PR and not work with others. It won't work that way. One thing you must do is make sure you communicate and form relationships so everyone's on the same page. We try to do what's best for the organization at all times."
The Rams Social Producer, Taylor Bailey, attended the symposium for the first time this year. As a creative, she enjoyed being in an inclusive environment to network and learn from like-minded individuals who shared the same passion of sports, storytelling and producing.
"I really enjoyed the panel titled, 'Unapologetic: Sports Stories Through a Black Lens' because it was specifically catered to storytelling and film," said Bailey. "The producers that spoke have had the opportunity to win Emmys from their documentary style content with ESPN and NFL Network that bring Black stories to life. We have already begun to dip in the area of telling Black stories that need to be told with our involvement in the Kenny Washington Black History Month film, but it was insightful to hear how it is important that people who look like us need to be involved in making sure they are told right. This is something that hit home because our video team has two Black producers and both of our input in future projects that relate to us can be impactful."
The Rams Human Resource Analyst, Oscar Alvarez, wanted to attend this year's Black Sports Business Symposium to provide access, learn and network with some of the best professionals in the business. He also wanted to recruit for the Rams and find new talent off the field.
"Providing a platform for Black professionals to continue to network, learn and grow from other Black professionals is a necessity to foster the next generation of successful Black talent while creating pipelines into so many networks that were nonexistent before BSBS last year," said Alvarez. "My favorite panel was the 'DEI Auditing for Real: Moving Past Surveys,' as it provided context to why DEI is so important in the world of sports. This is something I am interested in bringing to my day-to-day work, but also learned why DEI sits outside HR. It was also very interesting to see how other teams tackle DEI initiatives and what they see the future of DEI in sports looks like. I met so many professionals who came from similar communities/backgrounds as myself and are further along in their sports careers and had the opportunity to network and learn from these same individuals."