The Rams took a chance on Rod Perry, who was a standout cornerback at the University of Colorado before wearing sunglasses on the sideline in Boulder was cool, when they chose him in the fourth round of the 1975 NFL Draft.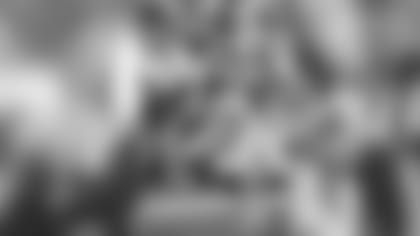 "My senior year in college, I injured my knee for the second time," Perry said. "I had injured it my senior year in high school, which was considered a major knee injury. It's called the unhappy triad, which was the MCL, ACL and meniscus cartilage. I overcame that, and then my senior year at Colorado, I injured my outside cartilage. That's the weight-bearing cartilage."
The injured weight-bearing cartilage aside, Perry practically fell over when he learned he'd be heading to Los Angeles.
"I was in the basement in a dormitory, and we were all listening to the Draft on the radio," Perry said. "I hadn't heard anything from the Rams, and so when they drafted me, I was totally shocked. I'm from Fresno, and to be drafted in your home state, 250 miles away, I was very happy because I knew my parents would get a chance to watch me play.
"The Draft was in January, and after that, they brought me in, did the surgery, and then I rehabbed. So when I went to training camp, I would say I was about 70 percent."
Beginning his rookie year on the physically unable to perform list, Perry was activated following the fifth game and finished the season as a backup and on special teams. The next year, he earned a starting cornerback position and collected eight interceptions, second on the team to fellow cornerback Monte Jackson's 10 picks.
"I go back to when I first got there," Perry said. "I couldn't practice very much because of my knee, and I kept saying, 'Lord, just let me get healthy.' If I got healthy, I knew I had a chance to play. Not to demean anybody, I just had confidence once I did get a chance. I knew I could play."
Missing nine games in 1977 because of a broken thumb, Perry came back stronger than ever in 1978, earning a trip to the Pro Bowl, and helping the Rams reach the NFC Championship Game for the third time in four seasons.
Again, Perry had eight interceptions. But this time, he returned three for touchdowns – off of Dallas' Roger Staubach, New Orleans' Archie Manning and Green Bay's David Whitehurst.
"The interception off of Dallas, I think that was considered to seal the deal. That made it, 27-14," Perry said. "And off of a Hall of Fame quarterback, that was my first interception for a TD that year. I had two that game, I intercepted one and then that one late. It was really a high-profile game, and I think I was Defensive Player of the Week. So that was huge."
The Rams came up huge at the right time in 1979. After winning the NFC West with a 9-7 record, they beat Dallas and Tampa Bay in the playoffs and met Pittsburgh in Super Bowl XIV. Played in the Rose Bowl, the Steelers won their fourth Lombardi Trophy in six years, 31-19.
Perry was part of an iconic moment in the game, when in the fourth quarter trailing by two, Pittsburgh's Terry Bradshaw threw the ball deep for John Stallworth. Perry leaped and missed deflecting it by an inch. Maybe. Stallworth caught it at the 35-yard line and ran to the end zone to complete the 73-yard scoring play.
"We always played Pittsburgh pretty competitively. Obviously, getting involved with the one long pass play, my son nowadays says, 'Dad, you shouldn't have jumped,'" laughed Perry. "But we had opportunities to win the game and, obviously, they made more plays than we did. They were a great team. They had great receivers and they're in the history books."
During the first six of the eight seasons Perry was with the Rams, they made the playoffs, played in four NFC Championship Games and Super Bowl XIV. What was key to the team's success?
"As a rookie, I just thought that's what you're supposed to do. I didn't realize how hard it was to get to those games. I remember the 1976 championship game, we lost against Minnesota and I felt bad for Merlin (Olsen) because that was his last opportunity to get to the Super Bowl," Perry said.
"But the year we went to the Super Bowl, we had a lot of guys injured who started coming back being healthy. Pat (Thomas) came back and helped out down the stretch. A lot of other players helped down the stretch. I really felt we bonded together as a team. Like a family, sometimes you have arguments with people, but for the most part, we had real great team unity. We had a good bond of real good people that happened to be great players."
Perry, a two-time Pro Bowler, concluded his 10-year NFL career by playing two seasons with Cleveland. He totaled 30 interceptions, 28 as a Ram, and retired in 1985. While Perry would no longer be playing, that didn't mean he would be leaving the game.
"In my fourth or fifth year in the league, I was on a knee on the sideline watching practice and I just felt like coaching," Perry laughed. "I always helped players. Watching people succeed based on maybe one thing that you told them, that excited me. I loved teaching and helping people succeed."
Cleveland's head coach Sam Rutigliano saw that in Perry too, and suggested he join Jim Garrett, who was leaving his staff to become the head coach at Columbia University. Which he did.
Coaching at Columbia was followed by stints at Fresno City College and Fresno State. In 1989, Perry joined his former Rams coach Chuck Knox's staff with the Seattle Seahawks, which began a 23-year career as an assistant coach in the NFL with the Rams, Houston Oilers, San Diego, Carolina and Indianapolis. He closed his 30-year career on the sidelines at Oregon State in 2015.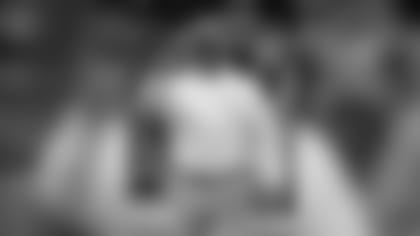 "Obviously, you learn how to coach on the field and you know defenses, but you learn how to put things together," Perry said. "You learn the office work, how you get prepared to get ready to go to the classroom to teach people, and then prepare yourself to coach. How to run a coffee machine, how to write up things. All of that. There's so much more to coaching than, like they say, rolling out the balls on the field.
"You love seeing young men succeed. College is on and off the field. Pros is still on and off the field, but they're there to be coached. I've had guys say, 'Just coach me, Coach. I'm alright. I've got it.' And then there's some guys who need that figure in their life. Be able to talk to them about life after football or those life things that come up, be a sounding board to him, and be able to give some suggestions, possibly some wisdom.
"And watch guys make plays because that's the name of the game. There's a Chuck Knox saying. 'Winning and getting paid, you can't beat that combination.' You've got to be able to win. You as a coach, you need to get guys in the right position to help them be successful as they can be. And I enjoyed that. I really did."
Now enjoying retirement, Perry makes his home in Clovis, CA. He has three children: Rodney, who works for a digital advertising company in Oregon based out of the Nike Center; Ryan, who is a physician's assistant in orthopedics at a VA Hospital in California; and Miranda, who is a student at Fresno State.