The Los Angeles Rams (0-2) host the Denver Broncos (1-2) on Saturday in the third week of the preseason. Kickoff from Los Angeles Memorial Coliseum is set for 6 p.m. PT.
To get you ready for the contest, theRams.com compiled a quick scouting report on key players on each team's offense and defense, plus a list of some of the connections shared by Los Angeles and Denver.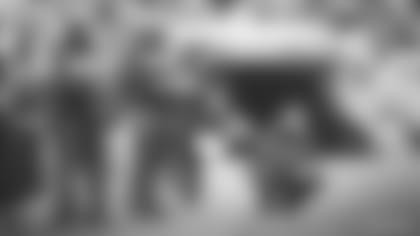 With QB Jared Goff resting on Saturday, backup Blake Bortles will get another chance to build his rapport with Los Angeles' second-team offense.
Bortles has completed 10 of 19 pass attempts for 112 yards and one touchdowns with no interceptions through L.A.'s first two preseason games. His first and only passing touchdown came last week against the Cowboys in Hawaii, where he also completed 63.6 percent of his passes.
RB Darrell Henderson Jr. is another one to play close attention to. While his workload didn't dramatically increase when it came to his carries last weekend, he did see more targets in the passing game.
On Offense for the Broncos
A sprained right hand sustained by rookie QB Drew Lock will force him to miss the remainder of the preseason at a minimum. Combined with the decision to sit starter Joe Flacco, both developments mean Saturday's game will serve as an audition for Denver's backup job for four-year veteran Kevin Hogan and rookie Brett Rypien, at least for the duration Lock is unavailable.
Hogan has completed 13 of 30 pass attempts for 104 yards with one interception across the Broncos' first three preseason games. Rypien, meanwhile, is 5 of 10 for 41 yards and one touchdown.
RB Khalifani Muhammad, a 2017 seventh-round pick, has been valuable as both a runner and receiver for Denver's offense. He has a team-high six receptions for 34 yards so far, and his 10 rushing attempts are tied for second-most among all Broncos running backs. He has 46 rushing yards, making him Denver's second-leading rusher of the preseason.
Keep an eye on the nose tackle position, too. Projected starter Sebastian Joseph-Day should get some reps on Saturday, as will Greg Gaines, a fourth-round pick this year who is competing with Joseph-Day for the starting job there.
On Defense for the Broncos
Undrafted free agent signee and LB Josh Watson has had a strong preseason so far. The Colorado State product has paced the Broncos with 19 total tackles, a figure that also leads all players in the preseason.
Sticking with the linebacker position, rookie Malik Reed is poised to see a good number of snaps with starters Bradley Chubb and Von Miller expected to sit out Saturday's contest.
Quite a few, namely on defense.
Rams CB Aqib Talibplayed for the Broncos from 2014-17 and won Super Bowl 50 with the team.
Rams Defensive Coordinator Wade Phillipsserved as the Broncos head coach from 1993-1994 in between stints as the team's defensive coordinator from 1989-1992 and 2015-2016.
Rams Assistant Offensive Coordinator Jedd Fisch was the Broncos wide receivers coach in 2008.
Rams Assistant Defensive Line/Defensive Quality Control Coach Thad Bogardus was a Broncos coaching intern in 2015 and defensive coaching assistant in 2016.
Rams LB Aaron Neary was on the Broncos in 2016.