As COVID-19 vaccinations are being delivered to frontline healthcare workers across the state of California, LA County hospitals and their staffs continue to work around the clock to help patients during the most recent surge of the pandemic.
To help address the growing fatigue experienced by frontline healthcare heroes as cases steadily rise in the Southern California region, Rams Safety TERRELL BURGESS decided to link up with a local Inglewood restaurant to ensure that help and a much-deserved holiday meal was on the horizon.
On Friday, December 18, Burgess purchased more than 200 tamales from Fiesta Martin in Inglewood to be delivered to Cedars-Sinai healthcare workers.
"I wanted to give a shoutout to the healthcare heroes over at Cedars-Sinai and provide them some lunch from Fiesta Martin and wish them a Merry Christmas" said Burgess in a video message to frontline healthcare workers.
For medical professionals like Cedars-Sinai's ER Physician Dr. Robin Polansky, who is often putting herself at risk with frequent exposure to the virus, it's the expressed gratitude and tokens of appreciation from community members that help deepen her sense of duty and power her through these challenging times.
"When you're deep in the trenches fighting the unprecedented COVID-19 battle, it's the gestures like meal donations, words of gratitude from local businesses, and caring individuals like Rams safety Terrell Burgess that truly lift the spirits of healthcare workers and help us keep pushing forward," said Polansky. "Thank you so much to Terrell, the LA Rams and Fiesta Martin for supporting our frontline workers and replenishing our stomachs and souls with food and appreciation."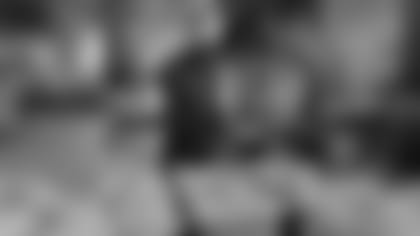 Fiesta Martin is one of four restaurants owned by the Martin family in the City of Inglewood, where the Rams play their home games at SoFi Stadium. The Martins have been residents of Inglewood since 1986 and recently applied for their restaurant location neighboring the stadium on La Brea Ave. to become a Certified #RamsHouse business. As part of the community partnership, the team provides Fiesta Martin with email marketing support, promotional social media content leading up to Rams gamedays as well as opportunities to partner with Rams players and front office to serve Angelenos in need of support.