When free agency opens on March 13 at 1 p.m. PT, we'll probably already have a decent idea of where some of the top players on the open market are going to sign.
That's in large part because of the so-called "legal tampering" period that exists for teams and agents starting on March 11.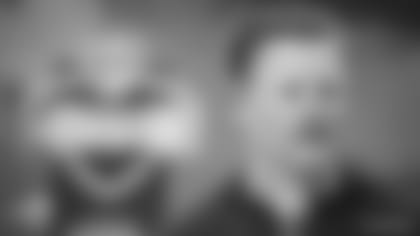 Per the NFL rules, "Clubs are permitted to contact, and enter into contract negotiations with, the certified agents of players who will become Unrestricted Free Agents upon the expiration of their 2018 player contracts at 4:00 p.m., New York time, on March 13."
So while the teams and players cannot have any direct contact until free agency opens, their agents can still negotiate for them. That means for any of the Rams' upcoming unrestricted free agents, Los Angeles will get a much clearer picture for what it may take to retain their services.
"[W]hat we have found too, in the past, is sometimes it's really good for a player to — even if we want a player and they want to be here — to go test the market at least in that 48-to-72-hour window and get a feel for their reality," general manager Les Snead said at the Combine. "That way they're not guessing, we're not guessing, and you get a true sense of what the market is instead of speculation."
That could be a big deal for players like left guard Rodger Saffold, safety Lamarcus Joyner, outside linebacker Dante Fowler, and defensive lineman Ndamukong Suh, who each may have robust markets for their services in 2019 and beyond.
Snead used the example of wide receiver Sammy Watkins from last year to illustrate how this period can clarify things for both the club and player.
"We let Sammy Watkins go test the market, and really, that's the best thing about the 72-hour window," Snead said. "Last year with Sammy, hey, his asking price became too steep for us, so we decided to let him move on. So with that, how do we react after that? OK, we lost Trumaine and Sammy. If we're disciplined in free agency, we could probably recoup two third-rounders. Oh by the way, though, we did lose a nice offensive weapon, so how are we going to solve that? Then, here's what might be available in the draft. Then you go, OK, we've got a really good offense, so do we want to add a young guy in there or do we want to get a proven guy? But we'd still like a young guy, so then you start looking at who might be available. I think when you do this, you've got to have contingency plans. You've got to walk through the scenarios and then execute those scenarios."
The Rams were able to do that by adding wide receiver Brandin Cooks via trade, and then extending him on a long-term deal — effectively making things work out for all parties involved.
So as the Rams continue to sort out free agency, look for early next week to be a significant checkpoint in Los Angeles' endeavors to both sign its own players, and possibly start to go after new ones.