As part of the coverage leading into the 2023 NFL Draft, theRams.com will give fans insight on what each week in April looks like for the team.
The first installment covered gaining clarity on the board via meetings between coaches and scouts, plus combine medical re-checks.
The second installment covered the third week of April and what that entailed from a draft preparation standpoint for both the coaching staff and scouting staff.
The third and final installment details what happens in the fourth week of April – draft week.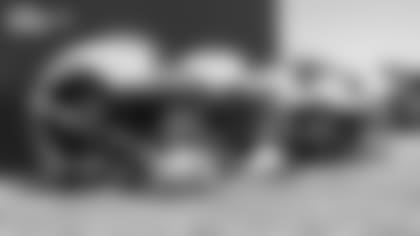 The rest of the Rams' scouting staff has arrived, and the quality control (QC) meetings continue.
Similar to last week's QC meeting between coaches and over-the-top scouts, another QC conversation takes place this week going over the draft board. The draft board is not a typical one, either, in that it functions like a playcall sheet to prepare for various scenarios.
Coaches, the entire scouting staff, scouting specialists who have been doing isolated projects who can also provide input, and analytics staffers are all in the same room, using that additional information from the specialists and analytics team to further manipulate the board.
The beginning of the week also sees the College Free Agent (CFA) committee come to a close.
While that's going on, the pro personnel department is finalizing its team needs for around the league, which helps serve as a reference point for navigating the draft. This is information the pro personnel department has spent the weeks prior gathering, but the beginning of this week is when it's due.
The scouting staff will also go through a mock draft scenario with the coaching staff, then determine if any further adjustments are needed after the dialogue they've all had to date.
After that, all that's left is the natural board clean-up that follows Day 1 of the draft, based on how it unfolded.
Once the draft has concluded, Sunday and Monday are spent shaping the remaining availability of players and filling out the rest of the 90-man offseason roster.