Now that the Rams' 2023 schedule has been officially announced, senior staff writer Stu Jackson ranks the top five games for Los Angeles this upcoming season: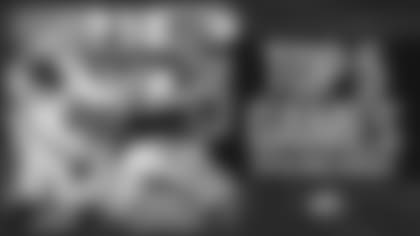 The end of a stretch of of three straight home games in October, the Steelers bring a formidable defense led by safety Minkah Fitzpatrick and defensive lineman Cameron Heyward and a young offense growing under quarterback and 2022 first-round pick Kenny Pickett.
At 9-8, Pittsburgh narrowly missed the playoffs in 2022 because they didn't get the help needed to advance into the postseason. While they won their regular season finale, they needed the Dolphins and Patriots to both lose; the Patriots lost, but the Dolphins edged the Jets via a 50-yard field goal by kicker Jason Sanders to eliminate the Steelers from postseason contention.
4) Week 9 at Packers, Nov. 5 (10 a.m. PT, FOX)
It's officially the Jordan Love era in Green Bay, as the 2020 first-round pick out of Utah State takes over as QB1 for the Packers after Aaron Rodgers was traded to the Jets. Love has spent the past three years patiently waiting his turn; now he gets it in Year 4 while working to build chemistry with a group of young pass-catchers.
Green Bay also has one of the top return specialists in the NFL in Keisean Nixon, who had a 105-yard kickoff return for a touchdown last season and re-signed with Green Bay this offseason.
Overall, this is the fourth time in three calendar years (so going back to the Divisional Round playoff game in 2021) that the Rams will face the Packers at Lambeau Field.
3) Week 3 at Bengals, Sept. 25 (5:15 p.m. PT, ESPN)
A Super Bowl LVI rematch in primetime this early? Sign me up.
While both teams have seen turnover on their respective defenses, most of the stars from that Super Bowl are still around – see Matthew Stafford, Cooper Kupp and Aaron Donald for the Rams; Joe Burrow, Ja'Marr Chase and Tee Higgins for the Bengals.
There will also be a familiar face in Cincinnati's secondary in former Los Angeles safety Nick Scott, who signed with the Bengals as a free agent this offseason.
Nothing having a rivalry matchup for the home opener. Will it be Brock Purdy, Trey Lance or Sam Darnold starting at quarterback for San Francisco?
The reigning NFC champions pay a visit to SoFi Stadium to take on the 2021 NFC Champions.
A loaded Philadelphia team signed quarterback Jalen Hurts to a five-year extension after Hurts' breakout 2022 season and retains many of the core pieces that helped it reached Super Bowl LVII. With one of the top offensive lines in the NFL, this should be a good midseason test for the Rams' defensive line. Likewise, the Eagles' defensive front should also provide a good opportunity for the Rams offensive line to see how it measures up.