As part of being one of 32 nominees for the NFL's Walter Payton Man of the Year Award last year, Rams offensive lineman Tremayne Anchrum Jr. received a $40,000 donation in his name to support the charity of his choice.
Of course, Anchrum isn't involved with just one organization, which is why he's spreading that donation out to support Hollywood Food Coalition, Jenesse Center, Los Angeles Boys and My Chemo Fairy.
Here's a little bit more on each of those organizations, including what drew Anchrum to them, each of their missions, and the programs and services they offer in aiding their respective causes.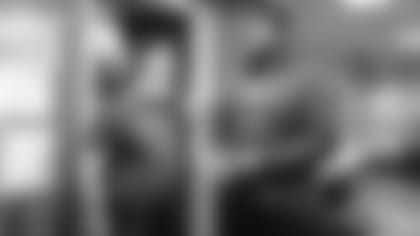 Hollywood Food Coalition
Hollywood Food Coalition's relationship with Anchrum began by him walking into its kitchen on a Friday night, which is a pretty active night for the organization, according to Community Dinner Manager Erin Lovelace.
Lovelace noticed Anchrum right away "because he was a foot taller than me," and when she picks up on "people's muscular ability," she puts them to work by having them pick heavy compost or trash, for example. Thus, she leaned on Anchrum's strength for those kinds of activities.
Anchrum had discovered them by way of going through multiple community service websites when he got to Los Angeles and was figuring out how to get involved in the community.
"It was really the people," Anchrum said of what drew him to the organization. "All the way. All the workers there. The organization, from the top down, is stellar. The consistency is unmatched. The level of detail and level of agency they put back into the people they serve in multiple ways. They have different people speak different languages, and they have different ways to show that they care, they have different ways to get you help. That's powerful, right?"
According to Senior Lead, Strategic Partnerships & Content Development Linda Pianigiani, Hollywood Food Coalition is dedicated to addressing food insecurity, eliminating food waste, and helping its guests connect to essential services they need by building trust and community with them.
Established in 1987, the organization has three main programs: Community Dinner, Community Exchange (food rescue) and Community Wellness (engaging with clients they serve dinner to each night and providing them with basic necessities including clothes, hygiene products and a shower). Community Dinner is the longest-running, having been around since 1987, and a crucial component to one of the most important variables of Hollywood Food Coalition's operation.
"We built trust with our guests, that's really big for us, and that's what the Community Dinner is really able to do," Lovelace said. "We serve every day of the year, which is a huge undertaking, because Saturdays and Sundays, nobody wants to work that day. And when nobody else wants to work, that means a lot of organizations are not serving, and we uphold serving every day of the year."
The organization has been volunteer-led for 32 of its 36 years of existence, per Pianigiani, which emphasizes how critical those people are to their operation.
"Volunteers are huge," Lovelace said. "Right now we have a pretty good, steady staff, but we're so dependent on it, especially because we use recycled food. That means if you get a box of produce that has been recycled, that means you need to go through it, you need to wash it very thoroughly, then out chop it and then that needs to be cooked and then served. (Wednesday) night, we made 270 meals and we had to heat that all up in like three ovens, and then maintain the heat in our steam trays. There's just a lot of energy that's needed to chop off the food, cook the food and hand out the socks we get. I have three people on staff (Thursday), but one's a full-time chef, so he's in the kitchen full-time. So if I didn't have enough volunteers tonight to hand out, that would be handing out 250 meals with two people."
For more information on getting involved with Hollywood Food Coalition, click here.
Jenesse Center
Last year, Jenesse Center gave a presentation to Rams players and coaches during Organized Team Activities to explain its program and what it was about. Afterward, CEO Karen Earl said she heard from Rams Executive Vice President, Community Impact and Engagement Molly Higgins and Coordinator, Football Affairs Casey Africano that there players who wanted to be involved.
Some approached Earl that day. Anchrum emailed her saying he wanted to get involved. So, on one Sunday afternoon, Earl met Anchrum in the parking lot of Jenesse Center, where Anchrum told her how their work connected with his heart that day. They also did a tour of Jenesse Center's facilities.
"As we were driving from facility to facility, we talked. He talked to me about football, he educated me, and then we got to one of our shelters," Earl said. "And it was amazing, beautiful, to see one of our male staff members – I think I took a picture and shared that with Molly and Casey – to see two men standing in the courtyard of a domestic violence shelter talking about best practices. And it's just what's in his heart."
"Seeing how they took care of people and they did everything from a loving place," Anchrum said. "Especially from the perspective of, I had a single mom growing up, too, and I have sisters, and I understand life can be really tough to them, and seeing what they (Jenesse Center) were doing in the L.A. area was amazing, and I told them I want to do anything I can to help."
After that, Anchrum brought other Rams players to Jenesse, and regularly texts Earl with items he wants to bring and ideas for activities he wants to do, such as recently connecting the center with yoga.
Jenesse Center is a domestic violence intervention program whose services take on many forms to carry out its mission of helping families in crisis reach self-sufficiency.
"I believe that when families come to us in crisis, it is the responsibility and mission of Jenesse Center is to take them from crisis to self-sufficiency," Earl explained. "And based on that, it is our responsibility to understand what the issues are that each family presents, and also to make sure that folk understand the families who come to us are homeless because of domestic violence, and sometimes we're a last resort because they don't have family and other people to go to."
Thus, it provides shelter and comprehensive services in conjunction with case managers who are focused on the specific needs of those families, with those services ranging from health, mental health and workforce development to a camp for kids.
"Hearing their story and how they go to work, the differences they can make in such a trying time in people's lives, it's powerful," Anchrum said. "I knew that I always wanted to support this group of people that have been affected. With my support of Set the Expectation and women's shelters, I knew I wanted to find a way to (make an) impact."
Earl said volunteers are needed to "stand in the gap" between staff and clients for them to be able to do the events that they do as well as the fundraising to support its programs. She has always understood the benefit of human capital when it comes to helping implement the organization's vision, which they can't accomplish by themselves.
For more information on getting involved with Jenesse Center, click here.
Los Angeles Boys and Girls Club
It was Christmas 2020 and the height of the COVID-19 pandemic, and the Los Angeles Boys and Girls Club had been doing food distribution throughout. They never closed, especially not for Christmas because they were committed to distributing toys to the community.
The organization knew its families and community members had been hit hard by the pandemic and ensuing shutdown, since many of them worked service industry jobs, so it wanted to make sure it didn't stop its holiday distribution.
The Boys and Girls Club was getting set up outside its building on the sidewalk, setting up tables to put out all the toys that had been collected, when a young man walked up to them and told them he was there to volunteer after signing up through L.A. Works., a website which connects volunteers to community-based organizations and which also connected him to Hollywood Food Coalition.
That young man, of course, was Anchrum, though it was only later that they realized Anchrum played for the Rams and was a professional athlete because he never told them, nor brought any cameras for a photo op.
"And we said, 'great! we need the help,'" Director of Operations Carlyn Oropez said. "I mean, we were stretched super thin, we didn't have a lot of staff, and, you know, people were scared still. So we said, 'how about this, we'll put your right here with the zero- to three-year-olds, you're gonna stand here and give out gifts. So he was basically at the beginning of the line, the line went all the way down the block, we were trying our best to have people social distance, (but) it was very hard because it was a huge crowd of people. Our toy distribution was organized by age, and he had the youngest kids, and so he kind of got the brunt of the beginning of the line as people came with their really small children. And he just jumped right in, he had no hesitation, he started giving out the toys and helping us restock. And that was the beginning."
Anchrum said he explored a few different Boys and Girls Club locations throughout the greater Los Angeles area before settling on the Lincoln Heights location as the one to get involved with.
"The kids, man. The kids resonated with me," Anchrum said. "It just shows all the work that those people at the Boys and Girls Club are doing, how much extra time they spend, how much thought and careful planning went in. Just the sheer amount of effort and love they put into people, it matters, it goes the distance."
Anchrum's support of the Los Angeles Boys and Girls Club has ongoing since Christmas 2020. Last November, he hosted 15 children from the club on an educational tour of the Holocaust Museum in Fairfax. He has also coached basketball for the club during his offseason, organized a Family Fun Day with physical activity stations, mentored kids at the club, and also helped distribute and deliver food during the pandemic.
Oropez said the Los Angeles Boys and Girls Club aims to inspire and enable youth, especially those from disadvantaged circumstances, to realize their full potential as productive, caring, and responsible members of the community. It carries out that mission by offering kids experiences they might not otherwise have the opportunity to participate in, to explore hobbies, to try out a variety of sports teams, to try out the arts, and academic support.
"Just try to offer a wide range of services and activities that kids in more-resourced communities might have access to and not think twice about, but for our families, those things really are not often accessible," Oropez said. "That's what we're about."
Volunteers are crucial for the organization to be successful in impacting young people's lives and can take on a variety of roles, ranging from joining its board of directors to simply providing extra hands. Oropez said one volunteer was a veterinarian who did a weekly class to introduce kids to veterinary science for five years.
For more information on getting involved with the Los Angeles Boys and Girls Club, click here.
My Chemo Fairy
Heather Collins' (formerly Pastrick) late husband, Geoff, coached Anchrum throughout high school. When Geoff left coaching in high school, they opened an offensive line training facility, where Anchrum helped them and was very active in talking to the kids and giving back while still at Clemson, which is how Anchrum's relationship with their family began.
Geoff was doing training with Anchrum at Prime throughout the time prior to getting diagnosed with Burkitt lymphoma and stage four cancer in January 2019. Geoff went through extensive treatment for about a year and a half before passing away in May 2020.
Heather and Geoff had started a nonprofit called Primed 2 Fight when Geoff was still alive and had gone into remission in August 2019. Its My Chemo Fairy initiative was inspired in part by what they observed at the hospital during that time.
"One of the things that we noticed when we were at the hospital was we are very blessed with family and support and insurance and all of the things that helped make cancer a little bit better, if that's even a thing," Heather said, explaining how Primed 2 Fight got started. "But helping other people, we started doing snack bags to the clinic that we support, that we spent every day at, and then we kind of expanded that out to other clinics where we knew people that were getting treatment."
My Chemo Fairy was created after Geoff passed. Geoff's sister had done "You Got This!" bags, and when Heather was walking down the stairs one day, she said, 'Oh, it looks like my chemo fairy came!'" – which is how they came up with the idea. Geoff's sister is a co-creator of it, and Anchrum was a contributor of both "his time and his treasures" as they were raising money for it to begin with.
"It's a book, it's got a bag that comes with it, and it tries to bring a little bit of joy to these families as they're going through this," Heather said.
For Anchrum, getting involved was an easy decision because of that pre-existing relationship.
"Heather, she's lived this," Anchrum said. "She's had the good moments, the bad moments, and she has such an understanding of how to impact people going through this. And she does it in such a way with the chemo fairies and how much that means to those people, how can you not want to support, you know what I mean? Seeing how much that hits hard and how much that resonates, I'll do anything to support this. I know this is part of my coach's legacy and everything he was about, and those are a lot of principles I live my life by, too."
Volunteers help by assembling and delivering those bags into the hospitals. Equally important, "they are someone who can provide the smile and the encouragement that you can battle anything," according to Heather.
For more information on getting involved with Primed 2 Fight and My Chemo Fairy, click here.