On Wednesday, June 5, a day before their high school graduation, four Venice High School seniors had the opportunity to shadow Rams' Director of Sports Medicine & Performance, Reggie Scott. The students began their visit with a tour of the team practice facility and had the chance to be spectators at an OTA practice.
The students were all part of a specialized sports medicine program that featured a course in treatment of sports and athletic performance injuries and practices to help their own school's student-athletes maintain appropriate health and fitness. Accompanying the students was course instructor, Kirsten Farrell, who created one of the district's first sports medicine teams. She also was recently recognized as one of five California Teachers of the Year in 2018.
"I think an experience like this is life-changing," said Farrell. "For them to be able to see medical care at the professional level, especially around the world of sports and football, is truly an eye-opening experience… It was great to hear from Reggie (Scott) about his history and how he got to this position. It gives kids in Los Angeles who don't have opportunities like this all the time a chance to see someone who they can eventually become."
Scott acknowledged that having this experience as a young adult surely would have felt surreal and would have further solidified his interest in the field much earlier on. He enjoyed playing a role in expanding the student's knowledge and understanding of the sports medicine industry.
"I told them to chase their passion and make sure that this experience and other experiences confirm that this is what they really love to do," said Scott. "If I had seen the inner-workings of an NFL Sports Medicine Department at their age, I think I would have probably pinched myself… It would have been invaluable because it's just a really good chance to confirm that this is really cool to do."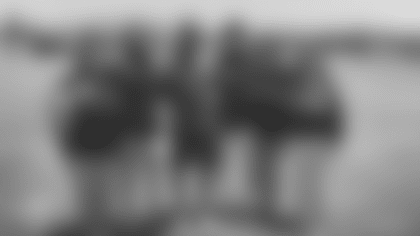 While students such as Thaddaeus Mammo expressed appreciation for the chance to see the Rams training staff in action, Scott also relished the opportunity to serve as a role model and career mentor for the students.
"Just being in the room, not even touching anything, but just watching the athletic trainers and what they do and seeing their professionalism showed me where I want to be in 5 to 7 years," said Mammo. "Being able to see it on a more professional level really just inspires me, enlightens me, and brings me hope."
The Rams' Community Affairs team first met Mammo at a Los Angeles Unified School District event earlier this year where he spoke about his career aspiration to one day be the Head Athletic Trainer for the Los Angeles Rams. This sparked team Community Affairs Representative JOHNATHAN FRANKLIN with the idea to invite Mammo and a few of his classmates to watch a team practice and to get exposure from professionals in their field of interest.
For student Camryn Butze, the opportunity to speak with the Rams training staff and learn about their journeys strengthened her desire to pursue a job in the industry. Meeting them helped her realize that these jobs are attainable through hard work, persistence, and a genuine enthusiasm for helping athletes achieve their performance goals.
"I realized that these people started with the same passion, drive, and motivation that I have right now and eventually took it to the professional level," said Butze. "Getting to become an athletic trainer at that level doesn't have to be about knowing everyone and everything, but more about having that passion and that drive inside you."
"It's crazy to actually be here," said Kenia Valenzuela Meza, another student-visitor. "Just to be introduced to this makes me excited to finally finish college, get my Masters, Ph.D., and start helping people."