THOUSAND OAKS, Calif. – The Rams wrapped up mandatory minicamp and are now on summer break until reporting for training camp at UC Irvine on July 25.
Here's what we learned from those two days of minicamp, OTA sessions from the previous two weeks, and what it means heading into training camp.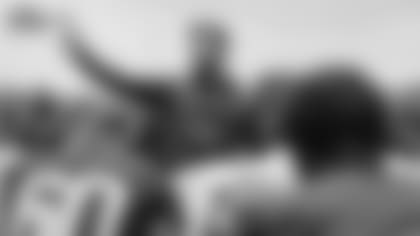 Rams comfortable moving rookie OL Steve Avila around
It shouldn't come as too much of a surprise that the former TCU standout was plugged in at both guard spots, given his positional flexibility. While he has a center background, he started 15 games at left guard in 2022 and also has seen action at right guard during his college career.
"He's obviously incredibly talented and gifted but been able to move him from left to right," McVay said Tuesday. "I think he's picking things up quickly."
Evaluating offensive line play is somewhat difficult during OTAs and minicamp because no live contact is allowed. But Avila's size on the interior when out on the field is noticeable.
Puka Nacua proving to be a quick study, going to compete for role
The rookie wide receiver earned praise from both head coach Sean McVay and wide receiver Cooper Kupp for his processing ability, in terms of translating information learned in meeting rooms to the field.
He also displayed smooth route running and reliable hands when he got reps during team drills with quarterback Matthew Stafford leading the offense.
Even as those reps came with Kupp absent for family reasons during OTAs and the team being smart with Van Jefferson and Ben Skowronek, Nacua was still getting those opportunities with Jefferson and Atwell on the field during minicamp.
"He's a guy that we're expecting him to come in, expecting him to be able to contribute and compete," McVay said on June 6. "Every spot is going to be earned on this team, but I really like what he's done and I think it's a credit to everybody around him and his conscientiousness."
Youthful roster energizing McVay
A young roster meant more teaching for McVay and his staff, but that hasn't been a bad thing. If anything, being involved in that manner has energized him especially as he's provided that instruction to rookies and other young players.
It will be fun to see that on display again when Los Angeles reconvenes for training camp.
Competition at center
Los Angeles regularly rotated between Coleman Shelton and Brian Allen at center, indicating an unsettled position battle that will continue into training camp.
"It's not too much different for me," Stafford said Wednesday. "I think we're kind of rotating a bunch of guys in there. We've got some new guys at tackle this week for this deal. It's been a lot…a bunch of competition, a bunch of rotation in there. I know at some point we'll settle into what we want to get to, but right now I think all that's good. As far as for me, I'm lucky to play with both of those guys. They're really great centers, have a great command of the offense, what we're trying to do, are professional snappers of the football, and all that kind of stuff. It's not too much of a big deal to me."
Palpable energy from young secondary
It could be seen in the way they celebrated each other after a play was made in practice how hungry and energetic this group of defensive backs is.
They have plenty to prove given the offseason departures, but they are plenty motivated to do so.