THOUSAND OAKS, Calif. – In the third of a four-part series highlighting Black-owned businesses that have visited the Rams' training facility this season, theRams.com spotlights Woody's Bar-B-Que, located in Los Angeles and Inglewood. You can learn more about the restaurant by clicking here to visit their website.
Rodney Phillips, who currently operates the restaurant and is the son of its late founder Woody Phillips, talks about how his father and mother started the business and the continuation of that legacy, where people can find it, and more.
1) How did Woody's Bar-B-Que get started?
"Well, we've been in business since 1975. My mother and father started Woody's Bar-B-Que in August of 1975. Our main location is on Slauson Avenue. Once I graduated from college, I opened up the one in Inglewood in '95, and we just expanded from there."
2) What's it been like being able to be at the Rams' facility and serve players, coaches and staff throughout the season?
"Oh, it's always exciting, because as a kid, you always want to see what goes on with professional athletes. So it kind of gives us a little background to see how the athletes interact in the locker room, in the weight room, so forth and so on. So it brings out a lot of kid and you still. I brought my son with these to help serve it today, because he came with us the last time and he was excited about it. So really awesome. We always did like the Lakers and other sports teams, too, but that's always exciting."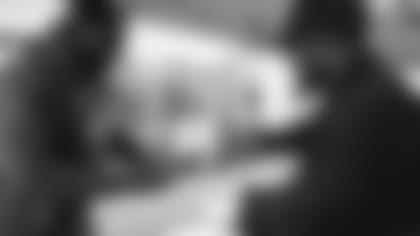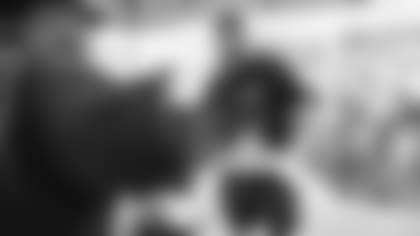 3) I know you already touched on the physical locations of Woody's (3446 W Slauson Ave, Los Angeles, CA 90043 and 475 S Market St, Inglewood, CA 90301) but how else can people find your business and keep up with it?
"Well, I've never been a social media guy, and we just let the food – it's just word of mouth, and we've been in the community for (nearly) 50 years. So everybody knows us. And you know, you could smell it in the air from miles away and you can just follow your nose, you know?
4) What else do you want people to know about your business?
"That it's probably one of the only authentic barbecue places that you'll find in the city of Los Angeles. We cook over live fire, it's not a rotisserie smoker or anything. It's a brick pit, and the barbecue is cooked over a live oak wood fire. So it's authentic."