Countdown to Camp is a series breaking down the Rams roster by position group heading into the team's first open training camp practice. The second installment examines the defensive line.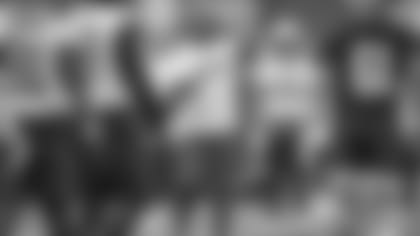 Rams defensive line coach/run game coordinator Eric Henderson has Aaron Donald back, but has two big pairs of shoes to fill with the departures of Greg Gaines and A'Shawn Robinson in free agency.
Because of those losses, sorting out the rotation after Donald will likely be priority No. 1 for Henderson when camp gets underway.
Los Angeles re-signed Marquise Copeland and also returns late-2022 season acquisition Larrell Murchison. Meanwhile, Earnest Brown IV, Jonah Williams, Bobby Brown III and T.J. Carter all have experience in L.A.'s system. The Rams also added to that group via the draft by selecting Wake Forest defensive tackle Kobie Turner in the third round and Toledo defensive tackle Desjuan Johnson in the seventh round, and by signing undrafted free agent and former Ohio State defensive tackle Taron Vincent.
Copeland comes back after posting 31 total tackles while starting in nine of 15 games played – all career-highs – in 2022. He also registered his first career sack. A late-season waiver claim, Murchison showed promise with six ttotal tackles and two sacks in three games with the Rams.
Williams' increased playing time led to increased production, making 23 total tackles and four QB hits while starting in six of 16 games played last season. Brown IV had nine total tackles while starting in three of five games played, while Brown III had eight total tackles while playing in nine games (one start). Carter played in two games but did not record any stats.
The departures on the interior aren't limited to just Gaines and Robinson. The defensive line room will also continue to adjust to not having Michael Hoecht, who is training at outside linebacker full-time this offseason after switching to that position last season and primarily playing on the interior of the defensive line previously.