Countdown to Camp is a series breaking down the Rams roster by position group heading into the team's first open training camp practice. The seventh installment examines the running backs.
For more information on Rams Training Camp presented by UNIFY Financial Credit Union, click here. To claim your free training camp ticket, click here.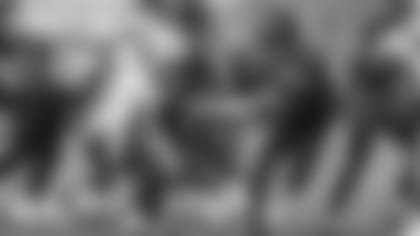 Of all the positions on the roster, running back will have perhaps the most interesting training camp this year given what each player's roles and responsibilities could be.
Cam Akers enters the final year of his rookie contract looking to build on finding his stride late last season with three-straight 100-yard rushing games across Weeks 15-17, which helped him finish the year with career highs in both rushing yards (786) and rushing touchdowns (7).
Rams head coach Sean McVay during the offseason program said he "loved where Cam Akers is at" and loved how Akers finished last year.
"Cam's got a natural charisma and a presence about him that people are drawn to and when he's got the right vibe and the right energy, that's a real positive thing for our team," McVay said on June 6. "He's a guy that we're definitely counting on. I've loved the way that he's exuded leadership in that room, but also for our team in general."
McVay also mentioned 2022 fifth-round pick Kyren Williams as another player who stood out this spring.
"Kyren Williams is another guy that's really stood out. He's done a great job," McVay said. "But (running backs coach) Ron Gould, Cam, Kyren, they've done a great job setting the tone in the right way for that running back room."
Training camp will feature new faces for the running back room in different ways. Besides Gould now overseeing the position after Thomas Brown was hired as the Panthers' offensive coordinator, the Rams also drafted Ole Miss' Zach Evans in the sixth-round of this year's draft and signed Sony Michel on June 20, six days after the offseason program concluded.
Michel's presence will be especially value for, at minimum, the leadership alone that he will be able to provide. Los Angeles did not have true veteran in the running back room on last year's initial 53-man roster, in the sense that Akers, Williams, Darrell Henderson Jr. and Jake Funk were all on their rookie contracts; Williams and Funk obviously had yet to play in an NFL regular season game.  
Ronnie Rivers played in eight regular season games last year (one start), posting nine carries for 21 yards and five catches for 29 yards, so the collective group enters this year's training camp with more players with regular season experience under their belt.