Countdown to Camp is a series breaking down the Rams roster by position group heading into the team's first open training camp practice. The eighth and final installment examines the tight ends.
For more information on Rams Training Camp presented by UNIFY Financial Credit Union,click here.To claim your free training camp ticket,click here.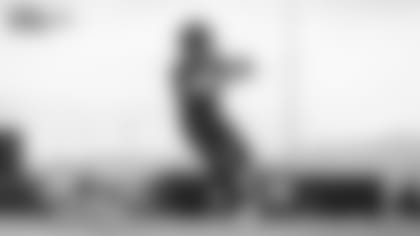 For the second-consecutive training camp, the Rams' tight ends enter it with a new position coach. Even with that change, though, one constant has remained: The presence of its most experienced player, eighth-year proTyler Higbee.
Higbee posted 620 receiving yards on a career-best 72 receptions while also playing in all 17 games. His three touchdown catches helped him set the franchise record for career touchdown catches by a tight end (19).
As for the new position coach, Nick Caley takes over for former assistant head coach Thomas Brown, who oversaw the group last season.
"It's been amazing (working with Caley)," Higbee said Tuesday. "He's had a lot of experience, believe he spent eight years in New England, worked with some great guys over there. So him bringing his knowledge over and just his energy, (which is) very much similar to (head coach) Sean (McVay) with his football energy and the love for the game."
One new development impacting the position group heading into training camp practices is the anticipated placement of Hunter Longon the Physically Unable to Perform (PUP) list. McVay said Long "tweaked a little bit of a groin, just working out this offseason."
If Long does go on the PUP list, that would likely mean more reps for fourth-year tight end Brycen Hopkins and rookie fifth-round draft pick Davis Allen during those practices.