Each weekday, theRams.com will be taking a look around the internet for the top Rams headlines of the day. Here's a look at what's out there for Thursday, June 20 about your Los Angeles Rams.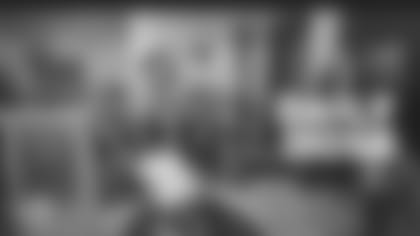 DONALD PERFORMANCE CENTER OPENS
Rams defensive tackle Aaron Donald is a proud native of Pittsburgh, Pa., having attended Penn Hills high school before playing his college ball at the University of Pittsburgh.
If you've followed even a bit of Donald's career, you're likely well aware that Donald was a little-recruited prospect before dominating at the college level en route to the Rams drafting him at No. 13 overall back in 2014.
After signing a lucrative six-year contract extension last August, Donald wanted to come up with a way to give back to his alma mater. That came in the form of a seven-figure donation, which was the highest ever for a former football letterman. And in turn, Pitt has renamed the ground floor of its football building the Aaron Donald Performance Center.
"This is home," Donald told the Pittsburgh Post-Gazette. "This is the school I watched on TV as a kid and I dreamed about playing for. For it to be here in my hometown at a university I grew up cheering for and wanting to play for, for it to come full circle like it did, you can't write that story better than that."
"When it's all said and done, when I'm no longer around and no longer doing anything, you're leaving a legacy behind that's going to be there forever," Donald added. "There's going to be one day, 15 or 20 years down the road, when they're going to see that name and be like 'Who's that?' and see the history of it. That's the thing that makes you proud."
Pro Football Focus ranked the top five pairs of offensive tackles in the league, and Los Angeles' bookends of left tackle Andrew Whitworth and right tackle Rob Havenstein made the list at No. 5.
From PFF: Whitworth has been nothing short of outstanding throughout his illustrious NFL career, earning overall grades above 80.0 in 10 of his 13 seasons in the PFF era (2006-18). Last season, the long-time standout showed absolutely no signs of slowing down; his 88.5 pass-blocking grade ranked third among 82 qualifying tackles, and his 78.4 run-blocking grade ranked second.
And who did Whitworth rank second to in run-blocking grade? Well, that would be none other than teammate and right tackle Rob Havenstein, who earned a league-leading 82.5 run-blocking grade off the back of a mightily impressive 12.7% impact run-block percentage that also ranked first among his peers. While Havenstein wasn't quite as impressive as Whitworth in terms of pass protection, his 75.2 pass-blocking grade was still good enough to finish in the top third among players at the position.