Each weekday, theRams.com will be taking a look around the internet for the top Rams headlines of the day. Here's a look at what's out there for Wednesday, January 2nd about your Los Angeles Rams.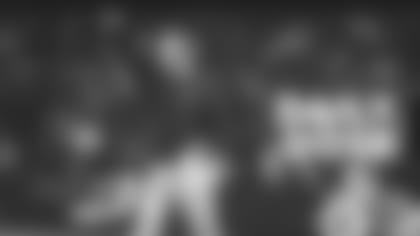 ESPN's Lindsey Thiry delved into the Rams locker room culture and set out to discover a bit about head coach Sean McVay's lingo steering the 13-3 Rams toward the club's second-straight playoff appearance.
In her article, Thiry studies different 'McVayisms' like, The Standard is the Standard, We not me, and Situational Masters. Thiry gives an example of when players like running back Todd Gurley have put McVay's favorite sayings to practice — like Week 8 against the Packers, when the running back stopped short of the end zone to continue to run time off the clock.
Here's Gurley's take on the play that Thiry mentions:
"It's not all about talent or whatever," said Gurley, who has scored a league-best 21 touchdowns this season. "You know you can always beat somebody by just knowing the situations of the game."
ESPN's NFL Nation Reporters gathered anonymous thoughts from players, coaches, and team personnel on each Super Bowl contender. Here's what was said about the NFC's No. 2 seed Rams.
Who scares you more: running back Todd Gurley or pass-rusher Aaron Donald?
One player believes Donald is the best defensive tackle of this generation and said his ability to "wreck an entire offensive game plan" is something only a few players in league history have been able to do.
How do you attack the Rams' defensive front (Donald, Ndamukong Suh and Michael Brockers)?
One player said, "keeping them off-balance and honest by establishing a run game and mixing in play-action" and "avoiding negative plays that lead to long yardage situations."
Which Rams receiver can do the most damage: Brandin Cooks or Robert Woods?
Responses here were more mixed, with a slight edge to Woods. Woods' ability to "align and succeed outside the numbers and in the slot" makes him the Rams' most versatile and dangerous pass-catcher because he can beat opponents in so many ways.
For more on the Rams and each playoff team, click here.
Defensive tackle Aaron Donald is the only member of the Rams named to the Pro Football Focus 2018 All-Pro team. Donald joins Eagles defensive tackle Fletcher Cox on the All-Pro defensive interior.
"Donald was doing things on the interior the likes of which the game has never seen this season. 106 pressures. 21 sacks. 20 hits. Four separate games with 10-plus pressures. The numbers are absurd. No one can touch Donald's production, but Cox was in rarified company, as well. His 95 total pressures this season were the most we've ever seen from a defensive tackle not named Donald."