Throughout the offseason, theRams.com will be taking a look around the internet for the top Rams headlines of the day. Here's a look at what's out there for Monday, March 2 about your Los Angeles Rams.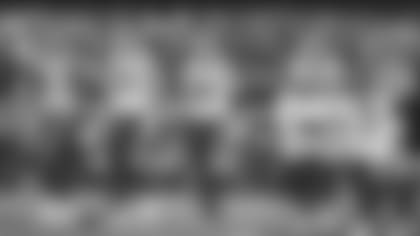 PRO FOOTBALL FOCUS IDENTIFIES RAMS BIGGEST OFFSEASON NEED
PFF's Ben Linsey examined offseason needs for each of the NFL's 32 teams on Monday. When discussing the Rams, he said "offensive linemen that can get the Rams' line back to its 2018 form" as its primary offseason need, with edge defender and linebacker as secondary needs.
"The Rams' offensive line was one of the better units in the league in 2018, and their offense flourished behind it as a result," Linsey wrote. "That all fell apart this past season, with injuries and personnel changes taking a toll on the group."
To read the rest of Linsey's explanation for the Rams as well as the league's other 31 teams, click here.
GO BEHIND THE SCENES AT THE PRO FOOTBALL HALL OF FAME WITH ISAAC BRUCE
Rams legend and recent Pro Football Hall of Fame electee Isaac Bruce paid a visit to the hall of fame, joined by fellow 2020 electee and former Steelers coach Bill Cowher.
The Pro Football Hall of Fame gathered audio from the trip, which you can listen to here.