Each weekday, theRams.com will be taking a look around the internet for the top Rams headlines of the day. Here's a look at what's out there for Friday August 3rd about your Los Angeles Rams:
Pro Football Focus released its 'PFF Forecast' for the NFC West on Thursday. According to PFF, the Rams are favorites to win the NFC West, with just over 30-percent odds.
Below are other baseline projections.
Total Wins: Los Angeles 8.32 (O/U 10), Seattle 8.26 (O/U 8.0), San Francisco 8.19 (O/U 8.5), Arizona 7.16 (O/U 5.5)
Probability of winning the division: LAR 30.4% (-140), SEA 28.4% (+500), SF 27.1% (+250), ARZ 14.1% (+1200)
Probability of making playoffs: LAR 40.4%, SEA 38.7%, SF 38.0%, ARZ 20.8%
Probability of winning the Super Bowl: LAR 2.8% (+1200), SF 2.7% (+2000), SEA 2.5% (+5000), ARZ 0.8% (+10000)
'HANG TIME' WITH JARED GOFF
In July, Rams quarterback Jared Goff went on a two hour hike with ESPN The Magazine's Sam Alipour. The pair discussed Goff's move to Hollywood, Rams buzz across the NFL, Steph Curry, and more in an interview for Alipour's feature 'Hangtime'.
And to think, just a couple of seasons ago they were calling you a bust. What's clicked for you two?
I'm very comfortable with Sean and everything we do offensively now, and I'm starting to take ownership of that. I can go into his office anytime and have a good back-and-forth. I was only in my second year last year, and he was more than willing to listen to my ideas. What makes him so special is his ability to adapt to his players, and we've got some good players.
Who deserves credit for the audibles you've been barking at the line, like "Tupac"?
"Tupac," "Ric Flair," "Elvis," "Obama" -- a lot of them come from Sean. He's a young guy with a very creative mind, and he comes up with names that make sense to us. You hear "Ric Flair," and the way he explains the meaning, you'll never forget it. Being in LA you like to have some fun with it.
If you have a say, what will this year's audibles be?
Ooh. Well, "LeBron" is going to be an audible. I'll try to mix in a "Curry" or "Draymond," "Taylor Swift," "Adam Sandler" or "Happy Gilmore" -- that's a good one. We'll get "Sam" in there. That means let the clock run out.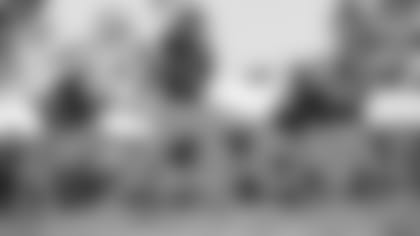 What does the future look like for Jared Goff in this city?
I love it here. I want to win championships, leave a legacy and, ultimately, be a great teammate, quarterback, player and friend. A long-term goal is being in the Hall of Fame, but winning a Super Bowl is No. 1, and I don't want to wait to win it. That's really the only thing I think about.
A location-appropriate question: any acting in your future?
I've done a few cameos that you may see soon. I'll be in "Ballers." Everything is shot down here, so it was like, "Hey, come down for an hour and shoot it." Being in this city long enough, you may see me on screen a few times.
Could you see yourself raising a family in LA someday?
I need a girlfriend first.
Punter Johnny Hekker expressed displeasure with 'Madden 19' on Twitter on Thursday. According to Hekker, his character in the video game resembles The Office's 'Mose Shrute'.
Hekker was voted to the Pro Bowl for the fourth time in his career last season.