Each weekday, theRams.com will be taking a look around the internet for the top Rams headlines of the day. Here's a look at what's out there for Tuesday, November 1st about your Los Angeles Rams.
Kristopher Knox of the Bleacher Report admitted to preseason predictions that have been wrong through the season's first half on Friday. Before the season, Knox predicted that wide receiver Brandin Cooks would see a drop-off joining Los Angeles, due to an array of options in head coach Sean McVay's offense.
Here's why Knox says he was wrong:
Well, Gurley is the centerpiece of the offense, and Woods has been more productive than Cooks, but the Rams offense has been prolific enough to make him a solid fantasy starter anyway.
Kupp has missed the past few weeks with a knee injury, but Cooks' numbers are a product of there being enough touches to go around in L.A. regardless. 
Cooks was trending as the WR20 during draft season. He's currently the 19th-best WR in PPR formats, according to FantasyPros, which means most folks who drafted Cooks got him right where they should have.
Cooks has 35 receptions for 643 yards and two touchdowns in 2018. 
NFL.com's Mark Sessler took note of one particular member of the Saints who could cause trouble for the Rams on Sunday. Sessler named Saints defensive end Cameron Jordan as one of his Week 9 'Key Characters,' and here's why:
The pressure falls on pass rusher Cameron Jordan, who will shoulder the load after talented rookie Marcus Davenport was ruled out for up to a month with a toe injury. The first-rounder piled up two sacks in last week's win over the Vikings and would have been a factor against the Rams. Instead, Jordan and Sheldon Rankins will be asked to handle the task, something they should be ready for after making life unbearable last Sunday for Minnesota's Kirk Cousins.
Jordan must also help against a Rams ground game that can wipe you out at any moment as Gurley continues his MVP-worthy campaign.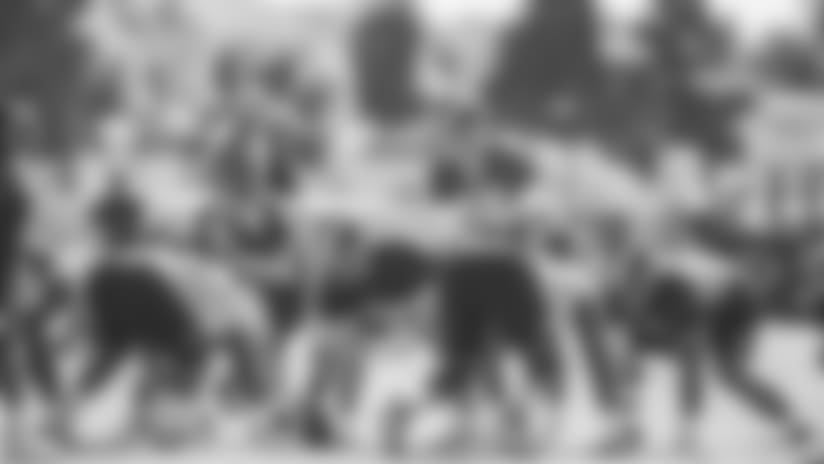 MIDPOINT SUPER BOWL LIII PICKS
NFL.com analysts provided their midseason Super Bowl winner predictions on Friday, and the Rams received the most votes (11).
Here's what a few analysts had to say about a potential Rams Super Bowl run:
Judy Battista: Rams over Patriots. The offseason acquisition binge pays off, as the league's most dominant and balanced team becomes the second upstart in a row to topple the Patriots.
Reggie Bush: Rams over Chiefs. Sean McVay and Andy Reid trying to out-scheme each other on the game's biggest stage? That would be a sight to see. No matter what happens in their Week 11 Mexico City clash, I bet McVay spends hundreds of hours in the playbook prepping for a possible rematch.
Maurice Jones-Drew: Rams over Chargers. With balanced offenses and defenses that have the personnel to do some serious damage, these two squads are built for the postseason. Goff and Gurley vs. Rivers and Gordon -- I give the edge to the league MVP (Gurley) and his squad. It's going to be so good!
Jeff Chadiha: Rams over Chargers. Todd Gurley becomes the first running back to win Super Bowl MVP honors since Terrell Davis did it for the Broncos in Super Bowl XXXII.
Jim Trotter: Rams over Chiefs. The league and CBS get precisely what they desire: a game in which the last team with the ball wins.
David Carr: Rams over Patriots; Dan Hanzus: Rams over Patriots; Daniel Jeremiah: Rams over Patriots; Shaun O'Hara: Rams over Chargers; Adam Schein: Rams over Chargers; Nick Shook: Rams over Patriots. 
Four other teams received votes, including: New Orleans (5), New England (2), Green bay (1), and Kansas City (1).