Young RBs Justin Davis and John Kelly were impressive in Los Angeles' preseason opener at Baltimore.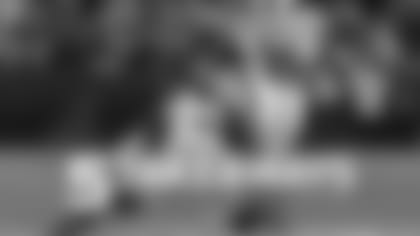 BALTIMORE — The Rams began their preseason slate on the East Coast, falling to the Ravens, 33-7.
But being that it's preseason, the final score far from tells the whole story. With that in mind, here are five takeaways from the first exhibition matchup of 2018.
1) RAMS REST THEIR STARTERS
As expected, head coach Sean McVay elected to rest nearly all of Los Angeles' starters for the first preseason contest. McVay had previously said on Tuesday that much of the work the Rams were able to get against the Ravens during practice could serve as a kind of substitute for game action.
The only starters who played were right guard Jamon Brown — who will be suspended for the first two games of the season — and second-year outside linebacker Samson Ebukam.
"It just kind of felt good to have that live mindset because all this time we've just been laying off on the [quarterback]," Ebukam said at halftime. "This felt good just to turn loose one time. It's just the first preseason game. It's like oiling ourselves right now. We're just getting loose, getting ready for the season."
Ebukam recorded a tackle in his first game action of the preseason. But he also rushed the passer effectively, forcing Baltimore's quarterbacks off of their spots in ways that led to sacks.
While defensive lineman Ethan Westbrooks is not currently listed as a starter, he's been taking first-team reps throughout training camp at three-technique given the absence of defensive lineman Aaron Donald. Westbrooks showed the work is paying off, recording two sacks in the first half.
Both sacks came in the second quarter and on third down, helping to end Baltimore possessions. On the first, Westbrooks got to quarterback Lamar Jackson and brought him down before outside linebacker Justin Lawler could come in and clean it up. Then Westbrooks brought down Jackson again on 3rd-and-5 from the Baltimore 25, this time with inside linebacker Bryce Hager there to help.
Westbrooks is heading into his fifth NFL season after first signing with the Rams as an undrafted free agent out of West Texas A&M.
3) OFFENSE SPUTTERS IN FIRST HALF
There's no way around it: Los Angeles' offense did not perform well in the first half.
The unit recorded only three first downs on 25 plays, picking up 45 total yards in the game's first 30 minutes. The club ended the first half 1-of-7 in third-down efficiency.
Quarterback Sean Mannion started the contest and finished just 3-of-13 for 16 yards with an interception. He was also sacked twice, losing 13 yards on the plays.
Los Angeles' offense was undoubtedly vanilla when it comes to scheme, and the unit was missing nearly all of its starters. And it is the first preseason game after all. But it was a disappointing night for the offense when it comes to overall performance.
4) DAVIS, KELLY PROVIDE SPARKS
There's been some thought that running backs Justin Davis and John Kelly may be competing for a roster spot as the club's third RB. If that is the case, Davis and Kelly likely made the decision tougher with their performances.
Davis ran well in the first half, taking seven carries for 41 yards. His longest run began a second-quarter drive and went 17 yards. The second-year running back has had a solid training camp so far.
Kelly entered the game in the second half and provided the offensive highlight of the game — taking a carry 40 yards down the field. The play began with Kelly running to his right, but he made a nice cut and ended up running diagonally toward the left sideline. Rookie wide receiver Steven Mitchell also had a nice block on the play.
The 2018 sixth-round pick out of Tennessee continued his strong play in the fourth quarter, taking a carry 14 yards with a solid cut to move Los Angeles deep into Baltimore territory for the first time all game.
Kelly finished the game with 13 carries for 77 yards, also making a pair of receptions for 14 yards.
Wide receiver JoJo Natson had a lot of opportunities for returns and made the most of them — both on kicks and punts.
Natson returned seven kickoffs, averaging 23 yards on each with a long of 27 yards. And he returned four punts averaging 14.3 yards per return. His longest punt return went 29 yards up the right sideline to start a touchdown drive, with defensive lineman Brian Womac posting a solid block to spring Natson.
Additionally, Natson had a key third-down reception for nine yards on Los Angeles' first scoring drive in the fourth quarter.