THOUSAND OAKS, Calif. – The Los Angeles Rams' coaching staff for the 2021 season is now officially set.
Here's what you need to know about each of the new additions: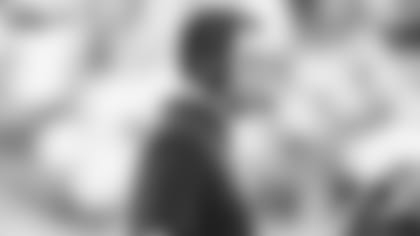 Kevin Carberry – Offensive Line Coach (pictured above)
Carberry joins the Rams after spending the last three seasons as Stanford University's run game coordinator and offensive line coach. He replaces Aaron Kromer, who was the Rams' offensive line coach in 2017, then offensive line coach/run game coordinator from 2018-2020.
In 2020, Carberry helped Stanford improve in rushing touchdowns scored (15 in 2020 vs. eight in 2019), on third down (48 percent in 2020 vs. 39 percent in 2019) and in redzone offense (touchdowns on 78 percent of attempts in 2020 vs. 47 percent in 2019) last season despite playing only six games compared to 12 in 2019.
Stanford's offensive line produced three All-Pac-12 selections during Carberry's tenure – Walker Little (First Team) and Nate Herbig (Second Team) in 2018, then Drew Dalman, who received Second Team recognition in 2019 and First Team recognition in 2020.
2018-2020: Stanford – Run game coordinator/offensive line coach
2016-17: Washington Redskins – Assistant offensive line
2014-15: Dallas Cowboys – Offensive assistant
2012-13: Stephen F. Austin – Defensive ends
2009-11: Kansas – Graduate assistant
2007-08: St. Ignatius College Prep – Defensive coordinator/special teams coordinator
Nick Jones – Offensive Assistant
Jones arrives in Los Angeles after spending the 2020 season as a diversity coaching fellow for the Atlanta Falcons.
Prior to joining the Falcons, Jones was Colorado State's co-special teams coordinator and tight ends coach (2019). He also coached tight ends at the Air Force Academy (2018) and Coastal Carolina (2012-17), as well as offensive tackles at Coastal Carolina.
2020: Atlanta Falcons – Diversity Coaching Fellow
2019: Colorado State – Co-Special Teams Coordinator/Tight Ends
2018: Air Force Academy – Tight Ends
2012-17: Coastal Carolina – Tight Ends/Offensive Tackles
2010-11: Georgia – Offensive Graduate Assistant
2007-09: Seattle Seahawks
Chris O'Hara
O'Hara joins the Rams as an offensive assistant after serving in the same role for the Jaguars last season.
Prior to working for the Jaguars in 2020, O'Hara was an offensive quality control coach for Washington for three seasons (2017-2019). He got his start in the NFL as an offensive coaching associate in Jacksonville (2014-16).
2020: Jacksonville Jaguars – Offensive Assistant
2017-19: Washington Redskins – Offensive Quality Control Coach
2014-16: Jacksonville Jaguars – Offensive Coaching Associate
2013: University of Miami (Fla.) – Graduate Assistant
2011-12: University of Miami (Fla.) – Student Assistant
2009-10: Temple University – Student Assistant
Marcus Dixon – Assistant Defensive Line
Dixon joins the Rams after four seasons coaching at his alma mater, Hampton University, where he most recently served as defensive ends coach, recruiting coordinator and director of player development (2019-20). Prior to those roles, he was the defensive line coach served as director of player development (2018) and defensive tackles coach (2017) for Hampton.
Prior to his coaching career, he signed with the Cowboys as an undrafted free agent out of Hampton in 2008. He then played three seasons with the Jets from 2010-12 and later spent time with the Chiefs (2013) and Titans (2014).
2019-20: Hampton University – Defensive Ends/Recruiting Coordinator/Director of Player Development
2018: Hampton University – Defensive Line Coach/Director of Player Development
2017: Hampton University – Defensive Tackles
Dwayne Stukes – Assistant Special Teams
Stukes arrives in Los Angeles after spending the last two seasons as a defensive assistant for the Jacksonville Jaguars.
Prior to joining the Jaguars' staff, Stukes was an assistant special teams coach for the Giants (2016-17) and Bears (2013-14).
Stukes began his coaching career as an assistant defensive backs coach for the Berlin Thunder of NFL Europe in 2006 before joining the Buccaneers coaching staff later that same year. His arrival in Tampa Bay began a six-year tenure during which he worked his way up from coaching assistant in 2006 to special teams coordinator in 2011.
2019-20: Jacksonville Jaguars – Defensive Assistant
2016-17: New York Giants – Assistant Special Teams Coach
2013-14: Chicago Bears – Assistant Special Teams Coach
2012: Dallas Cowboys – Minority Coaching Internship
2011: Tampa Bay Buccaneers – Special Teams Coordinator
2009-10: Tampa Bay Buccaneers – Assistant Defensive Backs Coach
2008: Tampa Bay Buccaneers – Special Teams Quality Control Coach
2006-07: Tampa Bay Buccaneers – Coaching Assistant
2006: Berlin Thunder (NFL Europe) – Assistant Defensive Backs Coach
2004: Colorado Crush (Arena Football League)
2001-02: Berlin Thunder (NFL Europe)
Also spent parts of four NFL seasons (2000-03) with the Atlanta Falcons, Pittsburgh Steelers and Tampa Bay Buccaneers