A day after being named NFC Offensive Player of the Week, quarterback Jared Goff has been named NFC Offensive Player of the Month for September. 
Through the first four games of the 2018 season, Goff led the conference with 1,406 yards passing and is tied for the conference lead with 11 passing touchdowns. Goff also leads the entire NFL with 10.5 yards per attempt and a 127.3 passer rating.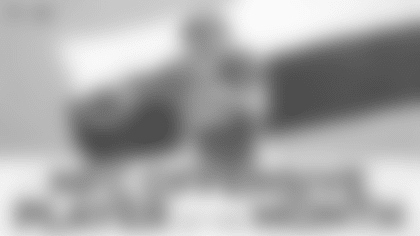 Goff's best performance of the month came last Thursday in Los Angeles' 38-31 victory over Minnesota. In that game, the third-year quarterback passed for a career high 465 yards and five touchdowns, earning a perfect 158.3 passer rating. Goff also became the first quarterback in NFL history to pass for at least 350 yards and complete at least 75 percent of his passes in three consecutive contests. 
This marks the first NFC Offensive Player of the Month award of Goff's career. Last year, running back Todd Gurley earned a pair of the awards in September and December. Kicker Greg Zuerlein also earned two NFC Special Teams Player of the Month awards in 2017.