NEW ORLEANS — The Rams got down to the Saints early, but have scored 10 straight points and are down 13-10 at halftime. Here are five key plays from the first half.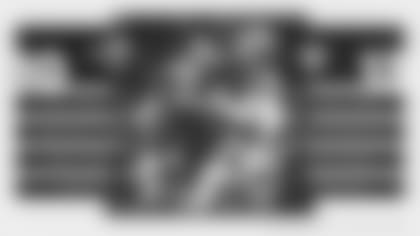 EARLY INTERCEPTION, RED-ZONE STOP
After holding the Saints to a field goal on their opening drive, the Rams started their first possession backed up at their own 10. While quarterback Jared Goff started well with a seven-yard pass to Robert Woods, running back Todd Gurley was stuffed for a four-yard loss on second down.
But on 3rd-and-7, Goff tried to hit Gurley with a checkdown pass and the ball went off Gurley's hands and into the arms of linebacker Demario Davis for an interception.
Though the Saints started their drive at the L.A. 16, the Rams defense was able to hold strong in the red zone once again. On 3rd-and-9, quarterback Drew Brees hit a quick screen to running back Alvin Kamara on the right side, but Los Angeles was able to bring Kamara down four yards short of the sticks.
Kicker Will Lutz came on to kick a 29-yard field goal to give the Saints a 6-0 lead.
The Saints got a boost from the Rams' defense with the home team once again deep in visitors territory when defensive lineman Michael Brockers was hit with an encroachment penalty on 4th-and-2.
Brees and the New Orleans offense didn't waste any time putting the ball in the end zone, with the quarterback hitting tight end Garrett Griffin with a five-yard touchdown pass to make the score 13-0.
Down by 13 and needing something to go right, head coach Sean McVay dialed up a fake punt to keep the Rams' offense on the field.
On 4th-and-5 from the L.A. 30, Hekker fielded the long snap from Jake McQuaide, cocked his right arm, and fired a pass on the right side to cornerback Sam Shields who caught it and gained nine yards after the reception, getting a first down at the L.A. 42.
The Rams were able to move the ball a bit from there, but had to settle for a Zuerlein 36-yard field goal after a 3rd-and-6 pass went off the hands of Gurley and fell incomplete. At that point, the score was 13-3 early in the second period.
Los Angeles' defense continued to play well late in the second quarter, led by defensive lineman Ndamukong Suh.
Suh brought down Brees on 1st-and-10 from the New Orleans 30, and then split a sack with outside linebacker Dante Fowler on 2nd-and-16 to make it 3rd-and-17.
Los Angeles' defense forced Kamara out of bounds on a short pass to bring up fourth down.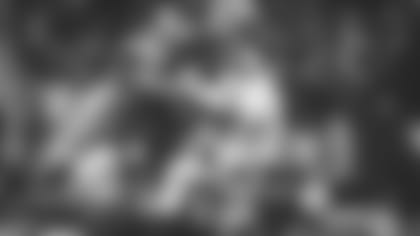 Los Angeles got a pair of huge plays from Goff to wide receiver Brandin Cooks to get in position to go into halftime down by just three points.
First, on 3rd-and-10 from the L.A. 41, Goff connected with Cooks for a 17-yard pass on the right side.
Then after taking a timeout, on the very next play Goff uncorked his best throw of the day for a 36-yard completion down the left sideline to set L.A. up with 1st-and-goal from the New Orleans six.
From there, Los Angeles hurried to the line of scrimmage, quick snapped, and Gurley ran it in six yards for a touchdown — only his third carry of the first half.