After two quarters, the Rams lead the 49ers 31-10 in the regular-season finale. If the team holds on to the lead in the second half, L.A. will clinch a first-round bye.
Here are a few key plays from the first half of the Week 17 matchup.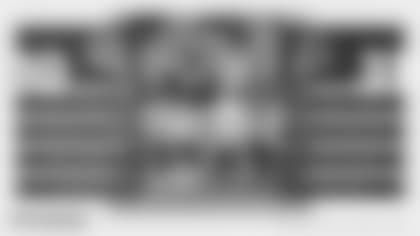 The Rams got off to an ideal start with a forced fumble and long fumble recovery to put the offense in position to score.
On 3rd-and-1 from the L.A. 49, linebacker Mark Barron forced a fumble on fullback Kyle Juszczyk, who had received an inside handoff and was attempting to bounce it to the outside to get past the sticks. Cornerback Aqib Talib was there to scoop up the loose ball, and darted down the left sideline to return it to the San Francisco seven-yard line.
Three plays later, quarterback Jared Goff found wide receiver Brandin Cooks open in the back of the end zone for a three-yard touchdown. With the extra point, Los Angeles had an early 7-0 lead.
Linebacker Cory Littleton got in on the takeaway party on San Francisco's next drive, picking off Nick Mullens' 3rd-and-10 pass on the drive's first set of downs.
With outside linebacker Dante Fowler and defensive tackle Aaron Donald pressuring Mullens from both sides, the quarterback fired an errant, floating pass to his right. Littleton was there to intercept the pass, returning it to the San Francisco 13.
Two plays later, running back C.J. Anderson bowled his way up the middle for a one-yard touchdown, giving L.A. a 14-0 lead.
Los Angeles also ended San Francisco's third drive with a takeaway — this time another interception.
On 3rd-and-6 from the L.A. 16, Donald pressured Mullens and the QB let go of a high, floating ball to the end zone — intended for tight end George Kittle. But safety John Johnson was there to tip the pass up, and fellow safety Blake Countess — starting in place of the injured Lamarcus Joyner — caught the ball in the end zone, going down by contact in the box for a touchback.
The offense, however, could not convert this particular takeaway into points.
The defense got its fourth takeaway of the half with an assist from the special teams unit, as punter Johnny Hekker perfectly placed a punt that got downed at the San Francisco six-yard line.
A couple plays later on 3rd-and-4 from the San Francisco 12, Littleton intercepted his second pass of the day — this time stepping in front of a pass intended for wide receiver Richie James Jr.
Littleton got to the left sideline, running up the field for a 19-yard touchdown return — the first defensive touchdown of his career. Littleton's two picks also equaled his career total entering Sunday.