After two quarters, the Rams and Eagles are tied 13-13 on Sunday Night Football. Here are four key plays from the first 30 minutes of Sunday Night Football.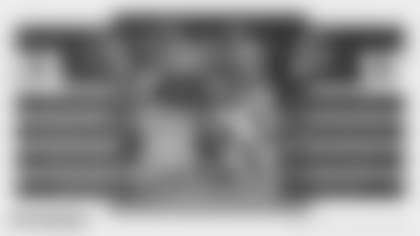 1. GOFF TO WOODS SETS UP TOUCHDOWN
Midway through the first quarter, the Rams had gotten a first down, but on the next play a holding call pushed them back to 1st-and-20 from their own 25. Running back Todd Gurley caught a check-down pass and took it eight yards to set up 2nd-and-12.
That's when quarterback Jared Goff hit wide receiver Robert Woods on the right sideline for a 18-yard gain — putting L.A. in Philadelphia territory. It was a big play, especially considering the Rams went three-and-out on their first drive.
Gurley would cap the possession with Los Angeles' first touchdown of the game — giving L.A. a 7-3 lead with just over a minute left in the first quarter.
Early in the second quarter, safety John Johnson continued his strong 2018 with a big pass breakup in the back of the end zone.
On 3rd-and-1 from the L.A. 12, quarterback Nick Foles fired a pass to star tight end Zach Ertz down the right seam. And while the ball was momentarily within Ertz's grasp, Johnson poked it out of the back of the end zone to keep the visitors out of the box.
Kicker Jake Elliott was able to connect on a 34-yard field goal to cut Los Angeles' lead to 7-6.
After Goff threw his sixth interception in the last three games, the defense came up big to give the ball right back to L.A.
Johnson continued his strong first half by tackling running back Josh Adams a yard short on a run out of shotgun on 3rd-and-3 from the Philly 49. Then Johnson was in there again on 4th-and-1 when Adams got the ball on a shotgun handoff up the middle for the second play in a row, stopping Adams for no gain.
4. FOLES TO JEFFERY LEADS TO TD
With 2:09 left in the second quarter, the Eagles had 3rd-and-5 from their own 40. Rams head coach Sean McVay took a timeout at that point, which would've given Los Angeles' offense plenty of time to put together a two-minute drive.
But Foles and wide receiver Alshon Jeffery had other plans. Foles hit the wideout with a 36-yard reception on 3rd-and-5, then Foles connected with Jeffery again for an 18-yard reception down to the L.A. six.
From there, Adams ran it in for a six-yard touchdown, putting Philadelphia ahead 13-10 with 1:07 left in the second quarter.