GLENDALE, Ariz. — The Rams don't have running back Todd Gurley active, but they do have C.J. Anderson and he's helped Los Angeles build a 21-9 halftime lead.
Here are five key plays from the first half from the desert.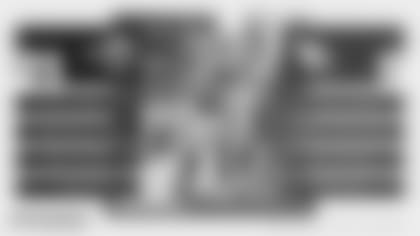 The Rams had a promising opening drive going before a strip-sack turned into a giveaway.
On 1st-and-10 from the Arizona 40, Goff faced pressure from his right, got hit, and lost the football. After defensive end Benson Mayowa knocked the ball loose, linebacker Deone Bucannon picked it up at the L.A. 41 to give the home team an early extra possession.
Wide receiver Robert Woods recorded the first rushing touchdown of his career midway through the first quarter to give L.A. the lead.
On 1st-and-goal from the four-yard line, Woods took a jet sweep to the right side and got in for the score. Woods has been a contributor in the run game more this year than at any point in his career. His rushing touchdown was the 17th carry he's taken all year. His previous career high was two.
Woods' touchdown also marked a career high in total touchdowns on the season for the wideout, giving him six in 2018.
On the fourth play of the second quarter, newly signed running back C.J. Anderson took a handoff up the middle for a 27-yard gain, setting up the Rams in the red zone.
It was one of four handoffs Anderson took on the possession, totalling 49 yards.
Goff would take the final run of the possession, though — a one-yard read-option play for a touchdown.
Wide receiver Larry Fitzgerald has long been a thorn in the Rams' side as a division rival, but never had he ever gotten them like this.
Following a timeout on 1st-and-10 from the L.A. 32, Rosen threw a backwards pass to Fitzgerald, who then threw a strike down the right side to running back David Johnson, who was wide open running down the field. Johnson made the catch and got in the end zone for a touchdown — the first passing touchdown of Fitzgerald's career.
Kicker Zane Gonzalez, however, missed the extra point to keep the Rams up 14-9.
Running back C.J. Anderson continued his great first half with a four-yard touchdown to give the Rams a 21-9 lead late in the second quarter.
On 1st-and-goal, tight end Gerald Everett came across the formation from left to right to open up a nice hole for the veteran running back. Anderson then lowered his shoulder, and powered through a defender to get into the end zone for his first rushing touchdown of the season.
Anderson finished the first half with 14 carries for 92 yards and one touchdown.
Not bad for a guy who got signed on Tuesday.