CHICAGO — Points and offensive yards were hard to come by in the first half of Sunday Night Football, as the Rams and Bears are tied at six. Here are a few notes from the first half of Week 14.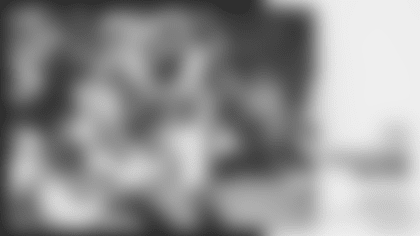 Cornerback Marcus Peters intercepted his second pass in three games to end Chicago's first drive on Sunday.
On 2nd-and-15 from the Chicago 42, Bears signal-caller Mitchell Trubisky threw a pass that was too high for wide receiver Joshua Bellamy on the defense's right, and Peters was right there to grab a takeaway. With blockers in front of him, Peters returned the interception 48 yards down the right sideline to the Chicago 15-yard line.
Los Angeles was able to score with a 27-yard field goal by kicker Greg Zuerlein to take an early 3-0 lead.
Defensive lineman John Franklin-Myers was able to stall a Chicago drive late in the first quarter when he brought down Trubisky.
On 3rd-and-5 from the L.A. 11-yard line, outside linebacker Dante Fowler got into the backfield on the defense's left and pressured Trubisky. While the quarterback got out of Fowler's grasp, he wouldn't be able to do so twice, as Franklin-Myers wrapped up the QB and took him to the ground.
It was Franklin-Myers' second sack of the season — his first since way back in Week 4 against the Vikings.
Bears kicker Cody Parkey put the ball through the uprights for a 39-yard field goal, tying the game at three.
FAKE PUNT LEADS TO RECORD
Needing to get something going in the second quarter, head coach Sean McVay elected to get aggressive in L.A. territory with a fake punt.
On 4th-and-7 from the L.A. 28, punter Johnny Hekker fielded Jake McQuaide's long snap, rolled to his right, and hit tight end Gerald Everett. The second-year TE was able to use his athleticism to extend the ball past the marker as he was being tackled for a first down. That, however, had to be confirmed after McVay challenged the ruling on the field — which was that Everett was stopped short.
The Rams were able to move the ball downfield enough to get in position to get points, but they only netted a field goal. However, those three points came from 50-yards out — giving kicker Greg Zuerlein a franchise record 27 made field goals of at least 50 yards.
At that point, the game was tied at six with just over four minutes left in the half.