THOUSAND OAKS, Calif. – Sebastian Joseph-Day's parents have yet to see him play in an NFL game in person.
When the Rams DT and his teammates take on the Bears at Los Angeles Memorial Coliseum, his mother and father will be on hand for the first time to witness his first NFL home start.
"Last year, they would come to home games, but I didn't play at all," Joseph-Day told theRams.com after practice Thursday. "They would still come to support me, but now, they could to see everything that they put into me come into fruition. It's a big thank you to them."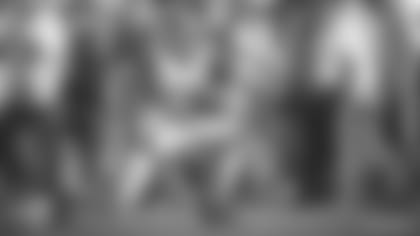 Various circumstances have contributed to this weekend finally being the occasion.
Joseph-Day's father, Joseph Vivens-Day, works in New York City, making the commute from their hometown of Stroudsburg, Pennsylvania, while his mother, Mirlende Joseph-Day, works as an in-home nurse for the elderly, according to a February 2019 story from from NJ.com. Joseph-Day was also inactive as a rookie, though that didn't stop his family from going to Atlanta to support him and the Rams in Super Bowl LIII.
By his estimation, his parents last saw him play in person when he was at Rutgers.
"It's finally starting to hit home because they're talking about, 'It's the first time we actually get to see you start in person," Joseph-Day said. "It's going to be a Sunday night game, it's going to be an amazing game. I'm just amped man, I'm ready to go. I'm ready to say thank you with my play."
This weekend won't be just about Sunday's game against the Bears. The former Rutgers standout and sixth-round pick will also be showing his parents around Los Angeles.
"I'll be spending a lot of quality time with them, taking them out to places I like to eat, showing them around L.A., Thousand Oaks," Joseph-Day said. "Just doing all the things I can with them, because time is precious with them. They're all the way across the country in PA (Pennsylvania), so when I do see them, it is very rare. It means a lot to me."
Joseph-Day has known for awhile that this weekend would be the weekend his parents finally get to see him play in person at the Coliseum. Still, he couldn't help but share his eagerness for their arrival as gameday quickly approaches.
"My family does mean a lot to me," Joseph-Day said. "I'm just excited, man. I'm really excited for that."