THOUSAND OAKS, Calif. – Around this time last year, Chandler Brewer was wrapping up radiation treatments for non-Hodgkin Lymphoma.
This week, he has another triumph to celebrate alongside that anniversary: Being promoted to the Rams' active roster.
"It means a lot to me," Brewer told theRams.com. "I feel like I've been through a pretty good bit the past year and a half. I can't remember the exact date when I finished, but it's been about year since I've finished radiation treatments. It's pretty cool to have this going on. I'm just ready to work and help the team as best as I can."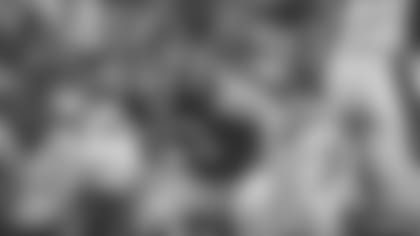 Brewer was diagnosed with non-Hodgkin Lymphoma last July, less than a month before the start of fall camp for his senior season at Middle Tennessee State. However, it wasn't public knowledge until several months later, when he shared what he went through in a Twitter post published on Feb. 4 – World Cancer Day.
In that post, he said he was able to avoid doing chemotherapy but still had to do radiation treatments for six weeks during the season. Needing to complete 15 sessions, each lasting 30-45 minutes, he would repeat the cycle 2-3 days a week across those six weeks based on whether Middle Tennessee State had a home or away game that week, according to an April 2019 story from the Murfreesboro Daily News Journal.
The same story reports that despite having to take his fight against the cancer into the fall, he did not miss a single practice or game.
"I felt like I handled it pretty well," Brewer said. "I had a great family supporting me. Great teammates, great coaches that understood what I was going through. I just tried to keep my everyday routine and not think about it that much. Just deal with what I was going through, just trying to play and have fun still and not let that affect me on the field. It's pretty cool to know that I've been through that."
He wouldn't let it affect his shot at playing professional football, either.
Signed by the Rams as an undrafted free agent in May, Brewer has been on the team's practice squad since the start of the season and is the fourth to land on the Rams' 53-man roster this season. WR Nsimba Webster and LBs Troy Reeder and Natrez Patrick made the initial 53-man roster prior to the start of the regular season.
"It's always a good feeling to be able to get promoted and just to continue to help the team any way possible as I can, let the guys rely on me to do whatever I need to do and just help the team," Brewer said. "So I'm really excited about it."
Brewer said the opportunity means a lot to him, and he's eager to take advantage of every chance he gets and see where it goes.
"It being a year, it's kind of crazy," Brewer said. "I never thought I'd be here."