In honor of Latino Heritage Month, the Rams will celebrate the contributions and achievements of the Latin community through the inspiring stories of their staff.
We continue that celebration spotlighting Assistant to the General Manager and Manager of Scouting Administration Roxana De Santiago.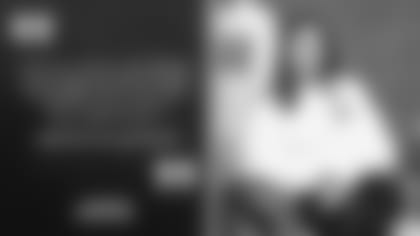 Born and raised in Los Angeles to a Salvadoran mother and Mexican father, Roxana De Santiago is "incredibly proud" to be a Latina and Angeleno.
She also doesn't have to look far for examples.
De Santiago points to her abuelita Teresa as her Latina role model – "she gained her wings over a decade ago but her love and the wisdom she passed on is still very present in my family all these years later," De Santiago said – and is motivated by her family, especially her mom.
"She immigrated to this country as a teenager after fleeing a civil war, has battled an autoimmune disease since her early 20s, and still managed to create a great life for herself and a happy home for my sister and I to grow up in," De Santiago said. "Motivated daily by her strength and optimism."
All of it is part of what drives her as Assistant to the General Manager and Manager of Scouting Administration for the Rams and in her fourth season working for the organization. Her favorite part of her job is "being surrounded by some of the most brilliant minds in the game and getting to be close to home while doing it."
De Santiago said she honors her culture daily by showing up as herself.
"I am a product of my ancestors and their triumphs and struggles and am very aware that I'm living out some of their wildest dreams," she said. "I enjoy reading, watching, and listening to Latin music, shows/movies, current events, books, and podcasts and am constantly learning new things about all our different cultures."
The biggest cultural misconception De Santiago finds herself having to explain to others is the idea that all Latinos look alike, and that other aspects of her culture are different as well.
"Latinos come in every shade from blonde and blue/green-eyed to Afro-Latin, brown-eyed, with melanin and super coily hair," De Santiago said. "The music, food, traditions, holidays, language, and history all vary. Perfect example of not judging a book by its cover."
Family is not only her biggest motivator, but also the inspiration for one of the cultural traditions – food – that she wants to pass down and share with colleagues.
"Some of my favorite childhood memories are from spending time with my grandmother in her kitchen," De Santiago said. "I love learning recipes from both sides of my family, cooking, and sharing those meals with friends."
For De Santiago, Latino Heritage Month "is a time to highlight all the wonderful things that being Latin encompasses."
"We're not a minority by any means," she said. "Latin culture is global, and our spending power is incredibly underestimated. Ever watched a major event like the World Cup? We're there in numbers and having an absolute ball!"
When it comes to celebrating Latino Heritage Month, De Santiago recommends taking a moment to acknowledge the struggles and biases that many Latinos face daily. It only takes a small, simple gesture, too.
"From street vendors, factory workers, back of house staff in most of the restaurants you frequent, farm workers, maintenance crews… most of these folks are grossly underpaid and exploited," De Santiago said. "Our cultures are lively and rich with joy and sharing. Throughout my life, these have been some of the kindest and most giving people I've encountered. Acknowledging them, even with a smile and a 'thank you' can go a long way."