"We are in hard, trying times," Director of Player Engagement, Jacques McClendon said. "When you look at what happened to George Floyd, when you look at what happened to Breonna Taylor. When you look at how racially charged our country is right now… it's been a trying time these last four months." 
And while McClendon emphasized that this has been a trying time, "We are also in opportune times," he added. 
That is why, this past Saturday, the Rams held their first session of the Scouting Apprenticeship. Ten minority apprentices, including two women, had a full day of education that began at 8:00 am and wrapped around 6:30 pm. The day included a breakdown of the Rams Pro and College Scouting departments, a lesson on NFL salary caps, data analytics, and ended with General Manager, Les Snead, taking questions for over an hour from each of the ten apprentices.
What are some things I can do? Les Snead, Rams GM
This project was born from a long and difficult conversation including three black Rams employees: Reggie Scott, Senior Director of Sports Medicine and Performance, Artis Twyman Senior Director of Communications and Jacques McClendon, Director of Player Engagement. As part of that dialogue, General Manager, Les Snead, asked "What are some things I can do?" 
The Rams are recognized as one of the most diverse organizations in the NFL. "That does not mean we are perfect; we have work to do. But what it does mean is that we at least know, when we have a problem, we have the type of people that can fix it." McClendon said. The question then became, "What can we do in our field that shows the power of football and how we can help enhance humanity." Snead said.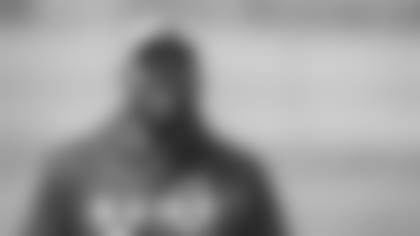 And that is why the Rams Scouting Apprenticeship program started, to create channels for minorities to pursue a career in NFL scouting. "This is year one," Snead said, "The goal is to continue to year two, three and four..."
These candidates were chosen because they were able to articulate who they are and what they wanted to get out of this opportunity. What set them apart was their character and dedication to the NFL.
The Rams are the first and only team in the NFL to implement a Scouting Apprenticeship.
The candidates are Former General Manager of the Philadelphia Soul Beau Bell, Pro Camps' Operations Coordinator Jordan Brown, Director of Compliance for Winston-Salem State University James Bullock, Brown University Assistant Coach Willie Edwards, University of Maryland's Director of On-Campus Recruiting Mechelle Geeter, Mastery Charter Defensive Line Coach Mickey Grace, Lakewood High School Head Coach Cory Moore, Michigan State student of Osteopathic Medicine AJ Pearson, Memphis University Recruiting Analyst Sherman Wilson, and Senior Bowl Scout Michael Young.
Along with the help of James Gladstone, Director of Scouting Strategy, these candidates will get experiential training, one-on-one mentorship and networking opportunities through virtual summits and touchpoints from now through the 2021 NFL Draft in April.
"The biggest thing is we don't want it to be a one-and-done. It was more of a 'let us try to build a year-long class and there's some homework and teaching involved. And the goal is to help you dominate your role right now in the present." Snead added.
McClendon emphasized, "This is an opportunity to create a pipeline."