As part of the Rams' celebration of Black History Month and the story of Kenny Washington, the organization is highlighting four staff members throughout February who helped bring the "Kenny Ran So I Could" campaign to life.
Up next is Partnership Marketing Manager Bianca Graves.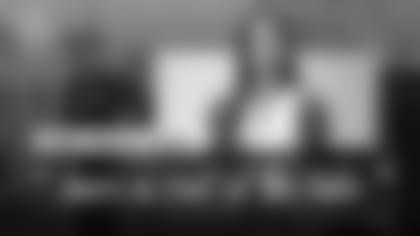 Bianca Graves' two biggest sources of motivation are both near and far: Her family, and her drive to create a legacy not only for herself but those who later enter the same space in the sports industry.
"Family is my truest motivator," Graves said. "Being able to share this journey with the ones I love most is the greatest reward. Another driving force for me is being able to build a legacy for myself but also for those that come into the space after me—I want to inspire young Black and Brown women and men to know that there is a place for them where their dreams are."
Currently serving as Partnership Marketing Manager for the Rams and having recently completed her fifth season with the team, Graves oversees the relationships between the club's corporate sponsors by developing creative campaigns to highlight the Rams and partner brands. Her day-to-day consists of meeting with clients, building creative campaigns, activating experiences across the Los Angeles community, learning new trends, building relationships between partners and players, and sharing ideas cross-functionally with the various teams within the organization.
That process began in November 2021, when Graves and Senior Manager, Brand Strategy Rachel Zisman started having discussions about how they wanted the Rams to show up during Black History Month. A year later, those conversations evolved into the film about Washington. Graves' roles within the campaign included connecting the Rams with a Black creative agency to help tell that story and authentic integration of corporate sponsors.
"As we started to ideate around how we would tell Kenny's story and the reach we wanted it to have, I connected with the Pan African Film Festival to learn about opportunities to show the film at one of the festival events," Graves said. "From there, I met regularly with the Rams Brand Strategy and Media teams to develop a plan for providing access to a Black creative agency to tell the story of Kenny's legacy. Although I am extremely passionate about the overall project, as a Partnership Marketing Manager, it is my job to determine opportunities that benefit the Rams and our Corporate Sponsors. With that, I knew that Audi was focused on providing resources to Black and Brown communities and impacting generations to come, so I worked with several colleagues to create a presenting package for the Miracle Theater Film Premier."
For Graves, the best part of her job is getting to meet new people and having the privilege of learning from those individuals and the experiences she said she's been so fortunate to have. She said there is something new to accomplish and something new to strive for every day.
In addition to family, what also fuels that drive for Graves is knowing how important it is for young Black girls to see her women like her in professional spaces.
"Representation matters," Graves said. "When I first started in the sports industry, I was fearful of not being taken seriously because I was Black and Female. My mentor at the time—a white male—told me that being Black and Female was my super power and that those innate qualities would allow me to take up space where so many people could not. That changed my outlook forever! When young Black girls see me, I want them to see themselves, to know that they matter and that their voices are heard and shared by women like myself. Black Women bring unique perspective to sports and other professions. Be unbossed and unbothered!"
Even with that encouragement and motivation, Graves said there were – and still are – days that she lacks the confidence to keep going. But when those moments happen, she can lean on what has helped her the most in her career and kept her motivated: her family and friends.
"They are my why!" she said. "I often hear my Nanny's (grandmother) voice in my ear telling me to keep going, keep being Bianca, and keep doing what I love."
It's fitting, then, that Graves defines inspire change as believing in herself and the power that her voice has.
"Change is inevitable, but how it is affected is up to every one of us," Graves said. "Change in the NFL and sports industry means providing access and resources to those often overlooked. I inspire change in myself and my community by putting my best foot forward and holding hands with those next to me to step in the right direction."
When it comes to celebrating Black History Month, Graves emphasized by understanding that Black History Month is every month.
"Although we celebrate during February, it is important that we acknowledge the contributions of Black thinkers, leaders, artists, and trailblazers every day!" she said. "Someone is making Black History as we speak."
And for Graves, Kenny Ran So I Could "HAVE A SEAT AT THE TABLE."