As part of the Rams' celebration of Black History Month and the story of Kenny Washington, the organization is highlighting four staff members throughout February who helped bring the "Kenny Ran So I Could" campaign to life.
Up next is Director, Social Justice and Football Development Johnathan Franklin.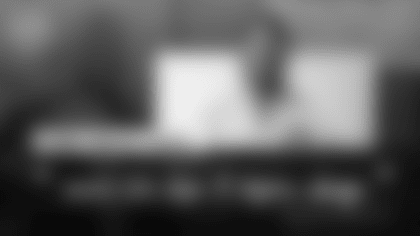 Though he grew in South Central Los Angeles and later played running back at UCLA, Johnathan Franklin said he wasn't aware of Kenny Washington even with that overlap.
That reality, he said, makes him more proud of the film the Rams made chronicling Washington's life and career.
"It's been awesome seeing the entire organization come together and tell this powerful story of a hero who inspired so many then, and will soon inspire many more," Franklin said.
Franklin, who is now in his eighth season working for the Rams, currently serves as Director, Social Justice and Football Development and was integrated into the film because of those aforementioned connections. He has also assisted with coordinating programming efforts that help Washington's legacy live on year-round, including supporting the Kenny Washington Memorial Game at his high school alma mater, launching the Kenny Washington Memorial Scholarship for 13 first generation high school students, and honoring 13 community leaders that embodies leadership traits of Kenny throughout the Rams' "pLAymakers" program.
It also ties into what Franklin said is the best part of his job, which is serving the L.A. region and beyond.
"Each day we have an opportunity to listen, learn, and then respond in a strategic way to inspire change," Franklin said. "Understanding we're not the subject matter experts in certain areas, it's always exciting bringing thought partners to the table and collaborating on ways to impact various communities."
According to Franklin, there are three people who have been especially influential in his career: Bridge Street, Inc. President and CEO Martin Ludlow, Packers President and CEO Mark Murphy, and Franklin's mother. Franklin met Ludlow during his time at Dorsey High School, while Murphy became a "great" mentor of his once Franklin's football career ended in Green Bay. And his mom set an example with her work ethic.
"These two (Ludlow and Murphy) have provided such great insight, advice, and support," Franklin said. "My mom has also played an influential role in my life. She is the most hard-working person I've ever met in my life."
What motivates Franklin and what inspire change means to him go hand-in-hand.
He is motivated by providing hope where it doesn't exist and maintaining it where it does, because "many times you have to believe without seeing."
"And I believe that one day regardless of what zip code you grow up in, all community members will have access to a great education, essential resources, mentorship, along with a safe park and field to use," he said. "I'm motivated to use my role to help Angelenos draw closer to their goals and dreams through the programs we build."
Concurrently, because inspire means to fill someone with the urge or ability to do or feel something, Franklin said that inspiring change starts with people recognizing injustices, inequities, discrimination, and inaccessibility that exist for many.
"It's when we recognize these truths that the urgently will push everyone to inspire positive 'change' for the greater good and a better future," Franklin said.
Along those lines, Franklin encourages people to celebrate Black History Month through three key areas:
Education – "It's important to educate on the progression of blacks," Franklin said. "Understanding blacks were once slaves, segregated from whites, killed unjustly, unable to vote, and faced racial injustices throughout the workplace. It's only when we understand where blacks were, that we can truly appreciate the sacrifices of the lives that helped progress from traumatic times."
Celebration – "Positively highlighting black heroes of the past and now that are contributing to progression in society."
Inspiration – "It's amazing to see the progression, but there's still a long way to go based on the statistics. It's important to identify ways to support black businesses, local non-profits that are combating issues impacting a high percentage of blacks and providing resources on recognizing biases and disparities."
Washington is a source for that third area for Franklin, who said that Kenny Ran So I Could "never lose hope to inspire change."