For the fifth consecutive season, the Rams teamed up with RISE, the national nonprofit that educates and empowers the sports community to end racism, for a leadership and community-building program.
"RISE's impact is making tomorrow better than today," said RISE Chief Executive Officer Diahann Billings-Burford. "We will be more unified as a nation, we will move together better, and families will be happier. That is our goal."
The program, RISE with the Rams, is designed to harness the unifying power of sports and build relationships between local high school football teams with a cross-section of racial and socioeconomic backgrounds to break down barriers and build leadership and cultural competency skills for student-athletes, coaches, and LAPD officers. The year's program featured six sessions for varsity football players from Bell High School, Los Angeles High School, Oaks Christian School, and Simi Valley High School.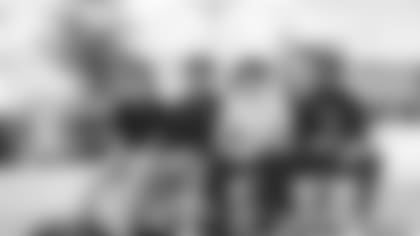 To culminate the program, the Rams partnered with the National Football League (NFL) to host the RISE with the Rams participants for a panel discussion and tour at NFL Los Angeles – the league's West Coast headquarters at Hollywood Park on Tuesday, Aug. 29.
To kickstart the event, the program participants presented their final projects explaining their journeys through RISE with the Rams.
Following the project presentations, Rams wide receiver Lance McCutcheon and safety Russ Yeast, Rams Director of Football Affairs Jacques Mcclendon and RISE Chief Executive Officer Diahann Billings-Burford participated in a panel discussion, moderated by RISE Senior Director of Empowerment Scarlen Martinez.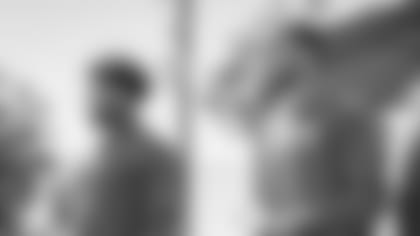 "If the world was more like a football team, the world would be a better place," said Rams Director of Football Affairs Jacques Mcclendon. "When you are on a football team, it does not matter if you are from the richest side of town or the poorest side of town, when we step on the field, we are teammates. That is what we are looking to curate through this experience with this program. It is not about where you are from or how you got there, but it is about how we collaborate, cohabitate, co-mingle, and move forward."
Receiver Lance McCutcheon went on to highlight the takeaways he hoped the student-athletes would walk away with.
"Everyone comes from a different journey, everyone's story is different, and everyone's background is different," said McCutcheon. "Anything is possible when you put your mind to it, and you work hard for it. Russ and I are a great example of that."
This year's RISE with the Rams initiative kicked off on Thursday, July 14, with a 90-minute discussion in the Rams' locker room at SoFi Stadium about understanding identities, perspective-taking, and the importance of diversity. Participants also visited Rams Training Camp at UC Irvine for two sessions focused on diversity concepts, privilege, equality versus equity, and the Native American legacy in sports. 
"Through these conversations, the perspective is using the power of sports as a vehicle for change," said Rams Director of Social Justice and Football Development Johnathan Franklin. "These youth can take back topics that they learned and the perspectives that they gained to their schools and community."  
Since 2018, the Rams and RISE have engaged 20 high school football teams throughout the greater Los Angeles region with the RISE with the Rams program.