In roughly five months, there will be two teams left standing, set to duel in the desert.
State Farm Stadium will stage Super Bowl LVII on February 12, 2023.
And while the NFC is wide open, we already know the Buffalo Bills are going to represent the AFC.
Anyway, no NFL venue has been more hospitable to the Los Angeles Rams, recently – not even the L.A. Memorial Coliseum or SoFi Stadium.
Since Sean McVay was hired in 2017, the Cardinals have surrendered more games to the Rams than any other opponent. And that nest west of Phoenix has been the Rams home away from home.
How long can that run of success last? And how good of a look at getting back State Farm Stadium can the Rams give themselves?
Division play begins this Sunday, with the Rams set for back-to-back road games against NFC West foes.
This trip to Glendale is guaranteed. Any subsequent visits will have to be earned.
Per NFL Research, 2022 is tied with 2012 for the fewest undefeated teams going into Week 3 since the NFL expanded to 32 teams twenty years ago.
And none of those five unbeaten teams reside in the NFC West, where all four franchises are 1-1.
Seattle sent Russell Wilson a message, then struggled in San Francisco.
The 49ers drowned in Chicago, lost their new franchise quarterback for the season, and now have an incentivized Jimmy Garoppolo back in their huddle.
Arizona could – and probably should – be 0-2, but may have saved their season with Las Vegas heroics the likes of which have not been seen outside The Hangover franchise.
And so Sunday becomes one of those September pivot points that often set a course for an entire campaign.
Per NFL Research, teams that start 2-1 make the playoffs 54 percent of the time, win their division at a 31 percent clip, and 3.6 percent of those teams claim Super Bowl titles.
Conversely, teams that fall to 1-2 only make the playoffs 25 percent of the time, win their division 13 percent of seasons, and just 1.2 percent of them lift the Lombardi Trophy.
A more concise summation would read something like: Sunday at Arizona is massive for both teams.
Ain't Over 'Til It's Over
While Kyler Murray rallied the Cardinals, the Rams survived a furious comeback from the Atlanta Falcons.
So each side is familiar with this emergent NFL trend.
In 2022, teams that trail by more than one possession at the break have scored 295 points after halftime, most through Week 2 in modern league history.
Last week, three teams overcame a fourth quarter deficit of at least 13 points to win, tied for the most such games in a single week in NFL history.
And Miami joined Arizona in victory from down 20 at the half. It's the first time in NFL history that multiple teams have overcome a 20-point halftime deficit on the same day, per Elias.
The immortal words of the late Dennis Green accurately summarized the Raiders regrets last Sunday.
We're not having this discussion if Maxx Crosby simply finishes his sack on Murray in the closing seconds of regulation.
Or if, on a prior two-point conversion, Murray hadn't weaved 85 yards in 20 seconds through a three-man rush in the red zone.
It was a fresh reminder that often the difference between winning or losing versus the Cardinals is whether or not you can corral their 5-foot-10 Jet Ski.
"The play is never over with this guy," Sean McVay reiterated this week in anticipation of reuniting with Murray.
The second-year wide receiver aligned as a fullback on more than 30 percent of the Rams offensive snaps against the Falcons.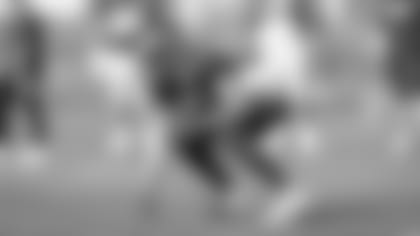 The Rams EPA/play was .23 on those 19 reps compared to .09 on all other plays (data courtesy of @TruMediaSports).
It was a stroke of genius by Sean McVay, and one that acknowledged the deficiencies in the Rams opening effort against Buffalo. We spoke at length about the adjustment on Monday's show.
As a biproduct of their game plan, Matthew Stafford was sacked only once, and despite two interceptions, finished with a passer rating of 100.7. Compare those figures to the seven sacks and 63.1 rating against the Bills.
Having put a bunch of two-back formations on film now – including flanking Stafford with receivers Cooper Kupp and Brandon Powell – the Rams became a much more complicated study for Arizona defensive coordinator Vance Joseph.
And you better believe that McVay is ready to build off what he put on tape last week.
Less Than Thrice Would Be Nice
If you're reading this far, you probably don't need to be reminded that the Rams have committed an NFL-high six turnovers through two weeks, plus a giveaway on downs, and a punt block returned for a touchdown against them.
To be 1-1 given those realities is a result of also leading the league in takeaways.
But how can you not be optimistic about what this offense and team could be capable of if-and-when they turn it over fewer than three times in a game?
At one point last week versus the Falcons, the Rams had scored 28 points in five possessions. That's remarkably efficient.
The unfortunate part is their remaining five drives ended in an interception, field goal, blocked punt, fumble, and (intentional) safety.
And going into their third game, it's also long past time for the running game to get on track.
I'm the furthest thing from an "Establish the Run" guy.
However, the Rams are 16th in the league in run efficiency thus far, following a postseason in which there was no rushing attack to speak of. As a group, they're averaging 2.7 yards per carry with a long run of 18 yards.
Since Week 16 of last year, the Rams have rushed for 100 yards as a team only once in eight showings – the blowout of the Cardinals in the Wild Card (140 yards rushing). They've averaged 72 per game in that span.
Some health up front would certainly be a boon. But at some point, Darrell Henderson Jr. and Cam Akers have to make more of the chances they're getting. I'm banking on their best of the season – individually and collectively – this week in the desert.
I really hope in Week 4 this space does not reflect any new additions to the Injured Reserve list.
Durant was our guest on Rams Revealed this week, and whether or not he's able to participate on Sunday, it's impossible to sit with him and not be enthusiastic about the future he's poised to enjoy in Los Angeles.
The Rams scouting department and coaching staff loved Durant and fellow rookie Derion Kendrick this summer. And while we don't love the fact they're both likely to be pressed into duty by Week 3, it's an early glimpse into the future of this secondary.
And if you need a silver lining, at least the Rams roster is in better shape than when they went to Glendale in Week 14 of 2021 – decimated by COVID – and pulled off a gritty win that set them on a course to claim the division, the NFC Championship, and Super Bowl LVI.