Pro Football Focus (PFF) has a team of more than 300 staffers evaluating every NFL play from the Hall of Fame game to the Super Bowl. After each game, players, as well as each team's offensive, defensive and special teams units, are graded on a scale of 0 to 100; the closer a player or unit is to 100, the better. A full explanation of their evaluation process can be found here for additional context.
Here's a look at some of the noteworthy Rams-centric assessments through the first three weeks of the season.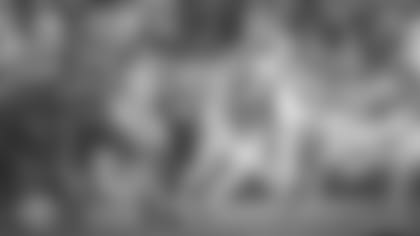 GURLEY'S CONTRIBUTIONS GO BEYOND THE BOX SCORE
Considering Rams RB Todd Gurley finished third in the NFL in rushing with 1,251 yards and total touchdowns with 21 in 2018, closely monitoring his stats is a logical move by fans. Still, his abilities as an all purpose back don't begin and end with his stat line.
Per PFF, Gurley is the highest-graded pass blocker of all Rams offensive players who have seen snaps through the first three games. He's posted the best pass blocking grade in each of the last two weeks, too.
His selfless attitude is a big reason why, as you can see in the tweet below.
HIGBEE A VALUABLE PIECE TO THE OFFENSE
With so much attention given to the production and balance of the wide receivers, it would be easy to overlook the tight end position in Los Angeles' aerial attack. However, it shouldn't be – Tyler Higbee is the highest-graded Rams offensive player through Week 3.
Yes, he missed last week's game due to a chest injury, but the point being made here is that he is very valuable to what L.A. tries to do offensively: Higbee has the second-highest pass-blocking grade and fourth-highest run-blocking grade of any Rams offensive player.
When Higbee signed his contract extension with the Rams earlier this month, head coach Sean McVay said his versatility is what makes him a key part of the offense given how much is asked of the tight ends. PFF's assessment of Higbee so far is reinforcing that.
DONALD IS BEST INTERIOR DEFENSIVE LINEMAN WHEN IT COMES TO DEFENDING THE RUN
The two-time NFL Defensive Player of the Year wouldn't have those accolades without a knack for getting into the backfield. He's living up to that reputation, especially against the run, leading into Week 4.
DT Aaron Donald's run defense grade of 87.7 is the highest out of 150 interior defensive linemen evaluated by PFF through the first three weeks of the season. The attention he commands is also creating opportunities for his teammates – Michael Brockers had the second highest run defense grade of any interior defensive lineman in Week 3.