Midway through the 2022 season, Quentin Lake was on the periphery, striving toward full health and eventually his NFL debut.
Midway through the 2023 campaign, he's front and center as a steady contributor in the Los Angeles secondary – one who can be considered a starter when the Rams come back from their bye week.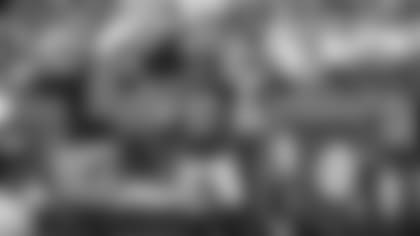 Playing a variety of roles, Lake has been on the field for approximately half the defensive snaps in consecutive games. And, in part, he attributes his progress as a professional to his meticulous note-taking.
"The answers to the test are in the film," Lake told us.
"Just how you rep on the football field, you rep writing down notes," he elaborated on his process of imprinting information for use on game days. "You might have to write that three, four times in a row just to remember it. And then you see it on Sunday, you're like, 'Okay. I can make a play on this.'"
His diligence in the film and meeting rooms translates to the grass, where Lake has over-performed individually in recent weeks, even as the Rams have faltered. According to Pro Football Focus, he was L.A.'s highest graded defender in Dallas and second-highest in Green Bay.
"(Quentin's) really gained the trust of his coaches for the dime position, really gained trust from his coaches from the safety position," defensive coordinator Raheem Morris said recently. "We are able to put 'Q' out there, and the trust that he has from all of us is just his knowledge base, his note taking, his ability to communicate.
"It's definitely got some genes involved there too, right? His daddy was a sharp player. He still intimidates me every time I see him right now on the sideline."
Morris was referring to Quentin's father, Carnell, a UCLA All-American in his day and a Bruins Hall of Famer. He went on to an illustrious NFL career as a Steelers defensive back and was honored as a member of the NFL's 1990s All-Decade Team. Carnell Lake is still involved in football through coaching.
The younger Lake wears his father's No. 37 and followed in his footsteps in Westwood, where he was an honor roll student.
"If Coach Rah wants to say my notebook's impressive, I'll bring in my dad's. It's like hundreds and hundreds of pages – just maybe on one team," Lake said of his All-Pro father. "I kind of get it from him."
For more on the Lake family, as well as a preview of what we should expect from him and the Rams in the second half of their season, catch a bye week edition of Rams Revealed on YouTube or listen in on your preferred podcast platform.