To kick off the second season of LAUSD's Beyond the Bell Flag Football League and in honor of Latino Heritage Month, the Los Angeles Rams hosted a youth camp for more than 200 Virgil Middle School students.
"The beauty of football is that it unites so many people, creates joy and promotes health and wellness," said Johnathan Franklin, Director of Social Justice and Football Development. "We are able to give the youth hope to be the best version of themselves."
During the clinic, students had the opportunity to develop their skills through drills and competitive combine stations. Members of the Rams 2022 Rookie Class including cornerback Derion Kendrick, safety Russ Yeast, defensive lineman Elijah Garcia and outside linebacker Brayden Thomas were in attendance alongside Rams Cheerleaders to interact with participants.
"It feels good to give back because I remember being in these kid's positions and pro players coming out to San Antonio, Texas to watch me," said defensive lineman Elijah Garcia. "It is cool to be on the other side of that. It means a lot. If there is any time I can give back to them, I am here for it."
Last year, the Rams provided reversible jerseys to 5,028 students at 110 different LAUSD middle schools to commemorate the Beyond the Bell Flag Football League. The schools also received flag football kits with ten footballs, 50 flag belts and three kicking tees courtesy of the Rams.
Beyond the Bell (BTB) provides a free on-campus, after-school intramural sports league for LAUSD schools. Over 5,000 students within 110 middle schools play in three divisions. Students play on middle school teams with over 100 teams in grades 7-8 and over 80 grade six teams. The teams play across all LAUSD, from San Fernando Valley to South Bay, West LA to East LA. The flag football league is an 8-week season, plus a regional tournament at various school sites and a citywide championship.
"When we first announced that the Rams were coming to the school the students could not believe it, but today when they saw that it was true, the students were excited and were super appreciative to have them come support our community," said Andrew Crony, Virgil Middle School principal. "I really loved the motivation that the Rookies gave to our kids. They told them don't give up, to try hard and if you fall down, you get back up. The motivational takeaways from today were it's all about the team, it is about thinking of others, helping others, playing your position well and helping the entire team. This is about appreciating all our differences and collectively making an amazing team."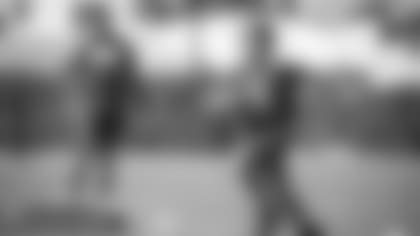 Rams Youth Camps are designed for elementary and middle school youth and offer educational and recreational benefits in a safe and fun environment. Each camp consists of motivational messages followed by interactive stations designed to test physical fitness and teach non-contact football skills to promote the NFL's Play 60 platform.
"If I could describe the kid's reaction to this event in one word, it would be joy. It has been a day of joy," said Franklin. "You can see the smiles on the kids' faces, the excitement of engaging with our rookies and our cheerleaders. Our rookies are local heroes to many of these youth. For them to see players that are wearing the same jerseys as them, embrace the same logo, play the game, connect with them, and have conversations with them is very inspiring."