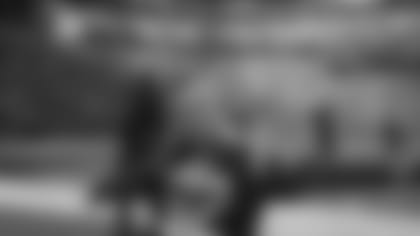 During the 2017 NFL season, the Los Angeles Rams gave away five trips to Super Bowl LII in Minneapolis. With these tickets, flights and hotel accommodations, the Rams celebrated *Difference Makers, *from those making a big impact on communities to passionate fans who make a difference with every cheer, post and high five. This League-wide initiative aimed to recognize NFL fans whose passion, love, and commitment to the game enables progress both on-and-off-the-field.
At the beginning of the 2017 season, a Rams season ticket member contacted the team to inform us about his son, Hector, who was 5 years old and who was battling Stage 3 Hodgkin's Lymphoma. As a diehard Rams and TODD GURLEY fan, Hector wasn't able to attend any of the Rams home games because of his illness. On December 19, 2017, Todd visited Hector and his family in Long Beach and surprised him with a trip for two to Super Bowl LII.
"The timing from the Rams was perfect," said Hector's father, Hector Sr. "He had just finished chemo(therapy) and wasn't feeling great. So when Todd (Gurley) walked in the house, it really picked him up. Even if he didn't get the tickets, just coming over, knowing how much he admires him and wants to be like him, I think that would have been more than enough of a gift for him. It was so genuine. Todd was hanging out with him, listening to him, listening to my wife and I, he really was excited to meet us. He even wanted to see Hector's shoe collection and play with his LEGO's. It meant so much and the Rams really changed Hector's momentum."
On November 2, 2017, the team surprised Staff Sergeant Francisco Chavez*on-field with a video message in which Rams defensive tackleMORGAN FOX* told Chavez he was receiving two tickets and a trip to Super Bowl LII. 
Staff Sergeant Chavez has served our country for 25 years in both the Marine Corps and the Army, which included two tours in Iraq and Afghanistan. Accompanying Chavez on the trip was his daughter, Laura, and they were joined by his son, Francisco Jr., and newborn granddaughter, Peyton, who Chavez met for the first time in Minneapolis. To cap it all off, Chavez was able to receive a jersey signed by his favorite player, Rams legend Eric Dickerson, and he also connected with a few veterans with whom he served in Iraq and Afghanistan.
"The trip to the Super Bowl was out of this world," said Chavez. "It's something we're never going to forget. It's still kind of hard to believe I was actually there. You always hear about people being selected, and for the Rams to select me is something that means so much. Everything was perfect. I was able to see my son, my granddaughter, two fellow veterans who I served with, and spending time with my daughter at the Super Bowl was just amazing. I know that the day that I go, when my time is up, I know she is going to have some of those photos with me." 
On Tuesday, December 19, 2017, Rams guard and Walter Payton Man of the Year nominee RODGER SAFFOLD surprised a "big brother" Travis Van Winkle, and his "little brother" of 6 years, Lyrik of Big Brothers Big Sisters, with a pair of tickets to Super Bowl LII. Van Winkle, an actor and producer who's appeared in films such as Friday the 13th *(2009) and *Hart of Dixie (2011) and stars on TNT's television series *The Last Ship *series, has dedicated his life to service working closely with organizations like Big Brothers Big Sisters, where he serves as an adult volunteer who matches with kids facing adversity to provide a professionally supported one-to-one mentoring relationship.
"What I loved about this trip was we got to spend an extended period of time together," said Van Winkle. "We really had the best time. Lyrik had never been in snow so the first thing he did was make a snow angel. The game was absolutely incredible. I think this showed Lyrik that he has such a strong foundation of support and I love that because he does so many great things with his service. It felt like it was beautiful and it came full circle for him. It was a sign to keep doing good for others, standing up for those that are less fortunate, and following his dreams. This marks the beginning for what the Rams and BBBS can do together, and we really appreciate what the Rams and Rodger Saffold did for us."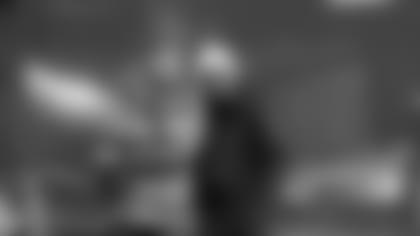 As the head coach of Upland High School's varsity football team for the past 22 years, Tim Salter led the 2017 Highlanders to a 12-1 season record and a Southern Section High School Football semi-finals appearance. The Week 6 Rams High School Football Coach of the Week honoree was officially acknowledged as the team's 2017 High School Coach of the year after he was selected by fans through an online voting process. Salter was recognized on December 31, 2017 at the Rams-49ers game, and was awarded a $2,000 grant, Gatorade products, and two tickets to Super Bowl LII as part of the NFL's Super Bowl Ticket Giveaway. Coach Salters attended the game with his son, Patrick, who played wide receiver for Upland High School's 2009 Championship team.
"We had an absolute fantastic time," said Coach Salters. "We spent an entire day at the NFL experience and the game was unbelievable. I've seen all the Super Bowls and that was as exciting of a game as I've ever seen. It was an experience that I'll always remember and to share it with my son just made it that much more special. It was truly a father-son moment that we will cherish forever."
On Tuesday, January 2, the Rams selected a Season Ticket Member, Raymond Chavez, to win a trip to Super Bowl LII in Minneapolis. As a lifelong Rams fan, Chavez remembers attending a few games at the Coliseum before he became a season ticket member from 1980-1994, when the Rams played their home games at Anaheim Stadium. After catching word of the Rams return to Los Angeles, Chavez scrambled to put down a deposit for season tickets. He was a season ticket member for the 2017 season and attended many of the games with his family members. His love for the Rams now runs in the Chavez family as his wife, two daughters and newborn grandson are all part of the "RAMily."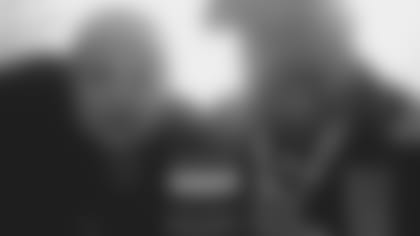 "This was a truly amazing experience. We will be talking about this for a while," said Chavez. "My wife Jocelyn and I also were celebrating our 40th anniversary and we were truly honored and humbled. I'm a life-long Rams fan, and even though I was an Eagles fan for the day, I still wore my Rams attire to the game."
In addition to these five giveaways, the Rams worked with the National Football League and Commissioner Roger Goodell to surprise the four LAPD Officers, who started the Watts Bears program, with tickets to Super Bowl LII.
Created by LAPD officers from the Southeast Division, the Watts Bears youth football program gives underprivileged youth in Watts a chance to play organized sports and to positively change the historically strained relationship between police and the community of Watts. LAPD officers James Holliman, Zarren Thompson, Grant Goosby and Otis Swift serve as coaches for the student-athletes, using sports as a vehicle to introduce, reinforce and promote concepts valued in society such as strong moral character, positive values, personal responsibility and a commitment to academics. The program's mission is to positively change the minds of their youth by challenging, guiding and teaching all their student-athletes to be leaders, not only in Watts, but throughout the world.
"The whole experience was phenomenal. I can't even put it into words," said Officer Holliman. "When I found out we were going to meet Commissioner (Roger) Goodell, I was getting prepared to tell him more about the Watts Bears. He walks up to greet us and says, 'Great to meet you guys I know all about your program and what you guys do.' I said to myself, 'Oh my gosh, the NFL Commissioner knows about the Watts Bears!' In my mind, I always thought we were this small program trying to make a difference in the community. I had no idea that Commissioner Goodell knew about us, and he was even naming off all the things we do. It was unreal."
For the LAPD officers and Watts Bears coaches, it's not about recognition, but about changing the community and creating opportunities of growth for youth in Watts. However, Holliman did welcome the opportunity to be recognized for the hard work he and all of his fellow coaches make on a regular basis in the field and for the Watts Bears program.
"It was incredible to be recognized for what we're doing and that the Rams wanted to do something nice for us," said Holliman. "We don't do it for that. We just want to give these kids everything in the world with Watts Bears. It was such an honor to know that an organization like the Rams was looking out for us and we really appreciate this and everything that the Rams are bringing to Watts."
For more information about the Rams' Super Bowl Ticket Giveaway recipients, or if you'd like to know more about the team's community efforts, please visit therams.com/community.