Over the next five weeks, team reporter Sarina Morales will bring you her top 3 moments from Hard Knocks The After Show and share a few clips you may have missed. Sarina was joined by the voice of the Rams J.B. Long, NFL Network Analyst Maurice Jones-Drew and ESPN Radio host Mike Golic Jr. Rams rookie linebacker Clay Johnston also joined as a surprise guest! Hard Knocks The After Show streams live at 8pm PST on TheRams.com each Tuesday, immediately following Hard Knocks.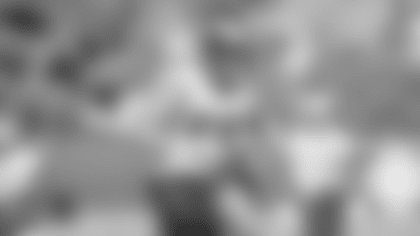 1: Mike Golic Jr. learned how to buy a home, thanks to Jalen Ramsey
Jalen Ramsey was a big focus on episode two of Hard Knocks. Yet, somehow our focus shifted from the shutdown cornerback to the open house for Ramsey. This wasn't just any open house either, this house was customized for #20 with photos of Ramsey's family placed throughout the home, including a wall full of the word "love", which happens to be one of Ramsey's newest tattoos. We were all amazed at the way the house was customized for Ramsey. Which brings me to my first top moment from Hard Knocks The After Show. Mike Golic Jr., compared his home buying experience to Ramsey's: "I cut my head in the house I am in now, and I think because I bled on the floor when I was looking through it…I was legally obligated to buy it." He lived to tell the story.
2: MJD thinks Jared Goff is in the right head space with the Goff Course
Jared Goff has his own Goff Course (Pun intended). During last night's episode, QB1 was highlighted playing golf at home, on a course he built on his property. It may be excessive to some, like Maurice Jones-Drew, but even the former pro bowl running back thinks installing a golf course for a guy like Goff shows maturity. MJD added, "When you come home from work… you need to have that downtime before you get piled on by different people. You just need to have that 45-minute grace period to get it all out. Maybe you had a bad practice. That's very mature of him."
3: Clay Johnston has a sword in his car because he loves Lord of the Rings
The rookie linebacker revealed, without hesitation, that he has a sword in his car right now, from the movie Lord of the Rings. It's a replica of the sword the character Frodo Baggins used. Johnston got it when he was in the sixth grade. It's still there.
You know what else is still there? "The Battle of Helm's Deep" which is also taking up space in Mike Golic Jr.'s head. This man pulled out his own fixation with the famous trilogy by challenging the rookie to give him his favorite movie of the blockbuster series. It was a tough question to answer on the spot. Johnston leaned towards The Lord of the Rings: Return of the King, but admitted he loves The Lord of the Rings: The Fellowship of the Ring due to the storyline.
The story continues next week on episode 3 of Hard Knocks The After Show. If you missed this week's episode and want all of this to make sense, you can watch Episode 2 right below! Until then, see you Tuesday night.