Throughout the five weeks of Hard Knocks Los Angeles, team reporter Sarina Morales will bring you her top 3 moments from Hard Knocks The After Show and share a few clips you may have missed. Sarina was joined by the voice of the Rams J.B. Long, NFL Network reporter Omar Ruiz and NFL Network and DirecTV's Red Zone host Andrew Siciliano. In the season finale, Rams GM Les Snead joined the second half of the show as the special guest.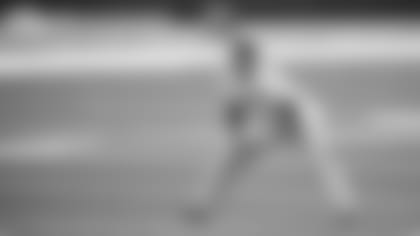 1: Dont'e Deayon gets my honorable mention
There was no avoiding "Double D" on Hard Knocks this season. There IS no avoiding DD if you are on the Rams any season. Dont'e Deayon's personality is infectious. He's the glue in the locker room and he was a fan favorite on the show for so many reasons. He gets my honorable mention for top moments of the season finale of the after show. Omar Ruiz and Andrew Siciliano shared the same sentiment when we all saw Deayon get waived from the roster and ultimately placed on the Rams practice squad. As a vet, Deayon handled the entire process with class. I am glad the Rams kept Deayon because laughter is the best medicine, and it's paramount to stay healthy this season!
2: Sorry for interrupting your fantasy draft, Andrew
Andrew Siciliano is a good multitasker, and that is no understatement. Those who watch him during the NFL season on DirecTV's Red Zone know he's the real deal. So please, excuse me Andrew, for interrupting your fantasy football draft. Siciliano not only joined the Hard Knocks After Show to share his insight and thoughts on the season finale, he was in the middle of his fantasy draft. We heard "You are on deck" spouting from his computer speaker a good three or four times during the first half of the after show. While he just missed out on drafting Cooper Kupp, he did give us a moment like this:
3: Kevin Demoff stole Les Snead's workout bike
Shout out to my partner, J.B. Long, who did not hold back with Les Snead during the after show. He brought up the most problematic part of Hard Knocks for us, "It looks like Sean McVay stole his stationary bike from the workout room at a Motel 6." Which is true. McVay's office was featured a number of times during Hard Knocks and the outdated stationary bike in the Head Coach's office was…distracting. Snead agreed, "It's a bad bike, I could never." But, what ended up being my favorite moment of the night, was Snead diverting our attention to the bigger issue: he no longer has a bike of his own in his office. Why? COO, Kevin Demoff, "stole it" and Demoff hasn't replaced it yet, either. "I've been lost without the stationary bike", Snead said. How did Kevin Demoff "steal" Les Snead's bike? You can see how the operation went down in the clip below.
This was the final episode of Hard Knocks this season, which means this was also the final Hard Knocks The After Show. If you missed this week's episode, you can watch Episode 5 below. While I am sad to say goodbye to Hard Knocks, I am hyped for the first game of the season, which is Sunday, September 13th against the Dallas Cowboys. So, I will leave you with that. Hard Knocks is over, but football is back!