For the five weeks of Hard Knocks Los Angeles, team reporter Sarina Morales will bring you her top 3 moments from Hard Knocks The After Show and share a few clips you may have missed. Sarina was joined by the voice of the Rams J.B. Long, ESPN NFL Analyst Mina Kimes and Rams all-time leading rusher Steven Jackson. Undrafted rookie, JuJu Hughes also joined as the surprise guest! Hard Knocks The After Show streams live at 8pm PST on TheRams.com each Tuesday, immediately following Hard Knocks.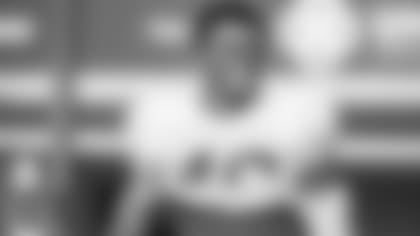 1: Would someone write a docuseries on John Wolford so Mina Kimes can be in it?!
Mina Kimes is no stranger to the Rams. Last season, Kimes was the color analyst for the Rams four preseason games along with Nate Burleson and Andrew Siciliano. With no preseason this year, Sean McVay and the Rams coaching staff are doing what they can do create competitive moments before the regular season. The Rams had their first of two scrimmages on Saturday and backup quarterback, John Wolford, threw two touchdowns. Kimes has had her eye on Wolford since his AAF days, however. While she can't remember the names of the two teams on the field, she remembers Wolford "can ball." She thinks highly of the mobile quarterback and insists that when the 10-part docuseries on John Wolford debuts, she "expects to be interviewed for a substantial portion of the first few episodes." No question, Mina. You will be one of the first people called for that.
2: LMFAO and Lil Jon should remix their song Shots with Aaron Donald
Aaron Donald had significant airtime on Hard Knocks in episode 3 because even in the scrimmage Saturday, AD did AD things. And what is the thing Aaron Donald does best on a football field? Sack! While there was no tackling during Saturday's scrimmage, Sean McVay yelled out every time AD sacked the QB… and it was a lot. Which led me to a glorious idea. Remember that party banger, Shots by LMFAO feat. Lil Jon? Not a lot of lyrics to remember other than the repeated yelling of the words "shots." My recommendation, replace the word "shots" with "sacks" and have Aaron Donald in the new music video flexing. It's a no brainer. LMFAO, call me, let's talk.
3: If you go to a restaurant and there are no more toothpicks left, it is probably because JuJu Hughes just left.
JuJu Hughes was here. And he took all the toothpicks. The undrafted defensive back was the Rams special guest this week after his major screen time during episode 3 for his obsession with toothpicks. I say obsession lightly. JuJu has been gnawing on wooden sticks for almost a decade. He started chewing on them to help stop biting his nails. But where does one get toothpicks? JuJu said he doesn't buy them. "I've never bought a toothpick a day in my life." When pressed about how he keeps this habit going? He said, "When I go out to eat… I don't hide it. If they are out and about [at a restaurant], I'm definitely scooping up a handful of toothpicks. As many as this hand can fit that day, that's how many are coming with me." Who knew some people go to restaurants for toothpicks and not for the food?
Find something to chew on until episode 4 of Hard Knocks The After Show. If you missed this week's episode and want all of this to make sense, you can watch Episode 3 below! Until then, see you Tuesday night.