When Torry Holt found out he was one of 15 Modern Era player finalists for the Pro Football Hall of Fame's 2020 class, all kinds of memories came flooding back.
The first-time finalist thought about playing on the recreation team as a child growing up in his hometown of Gibsonville, North Carolina. His days at Eastern Guilford High before going to Hargrave Military Academy. The lessons learned at Hargrave carrying over to his college career at North Carolina State, where he starred before joining the Rams as the sixth overall pick in the 1999 NFL Draft.
"Unbelievable, man," Holt said in a phone interview with theRams.com last week. "I've had a range of emotions."
Now, there's only one uncharted point left in his journey: Joining other league greats in Canton, Ohio.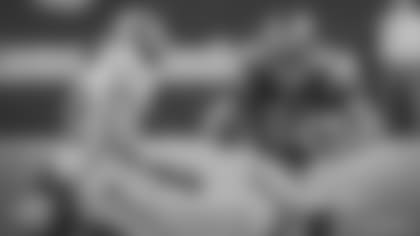 When searching for the roots of a resume worthy of consideration for the Pro Football Hall of Fame, start with those who set the example for Holt.
Jane Smith and Roy Williamson, athletic directors for Gibsonville Parks and Recreation, drove Holt to every football game as kid. Holt credits the organization's football league for teaching him how to compete at a young age.
Following in the footsteps of his uncles, he played at Eastern Guilford High in Gibsonville, where he was a Prep Football Report All-American selection and earned all-state honors. The Charlotte Observer named him one of the Top 25 football players in the state after his senior season.
While his time at Eastern Guilford proved instructive in the trajectory of his football career, perhaps the biggest breakthrough came during his post-grad year at Hargrave Military Academy, a boarding school in Chatham, Virginia.
"That experience, learning how to be disciplined and trusting my instincts, trusting what I've learned, putting what I've learned to use," Holt said, recalling what he took away from his time at Hargrave. "Understanding that I could learn and be sharp at it."
He put that trust to good use once he arrived at North Carolina State, where Wolfpack head coach Mike O'Cain and offensive coordinator Jimmy Kiser moved him around and had him learn every wide receiver position.
"I appreciate them for that," Holt said.
Holt also gained an understanding of what it took to work and had former N.C. State wideout Eddie Goines to thank for that.
Goines played for the Wolfpack from 1991-1994 and went on to play two seasons in the NFL for the Seattle Seahawks. Though his career never overlapped with Holt's – Holt would arrive on campus in 1995 – he would still return to Raleigh to mentor N.C. State's wide receivers.
"He came to school and would teach us how to practice, how to work, how to play the position," Holt said.
Soon, Holt would be surrounded by several other professional players who shared that same mindset.
The way Holt describes it, the Rams were the perfect team for him to begin his professional career with when they chose him with the No. 6 overall pick in the 1999 NFL Draft.
"I've been talking about this to my wife, my kids, my brother and folks that I talk to daily," Holt said. "Coming into the situation in St. Louis with guys that understood how to practice, how to enjoy practicing, valued the game, good leaders, unselfish. … Just an ideal situation."
Similar to his childhood, he had multiple role models who helped set an example for him when he first arrived into the NFL, specifically bringing up the mentorship of wide receivers Ricky Proehl and Isaac Bruce, guard Adam Timmerman and defensive lineman Ray Agnew. Agnew was especially impactful as a fellow N.C. State alum and former first round pick who helped him understand what it meant to carry on the tradition of Wolfpack football.
Equally influential was Rams head coach Dick Vermeil, who made a strong first impression on Holt.
"Just how humble he was and how excited he was about coaching football, trying to change the culture in the organization there in St. Louis, I knew right away coach had good intentions," Holt said of Vermeil. "When I started talking to him and then I got a chance to be around him and know him, he was everything I thought (he would be)."
Molded by the standards Proehl, Bruce, Timmerman, Agnew and Vermeil shaped, Holt helped the Rams finish 13-3 overall, win their first NFC West division title since 1985 and first Super Bowl in franchise history in his first professional season. He collected 52 catches for 788 yards and six touchdowns to earn the team's Rookie of the Year award.
That, however, was only the beginning for Holt, whose motivation to assemble a hall of fame-caliber career would also be fueled by recognizable external sources.
Fittingly, Holt's drive to 920 receptions, 13,382 receiving yards and 74 touchdowns in 11 NFL seasons was inspired by Hall of Famers in another sport.
Yes, Holt had several selfless teammates who helped him strive to be the best version of himself, but he also looked outside of the organization for motivation well before he got to the NFL:
NBA Hall-of-Famers Magic Johnson, Michael Jordan and Karl Malone.
"I watched Magic Johnson and Michael Jordan and Karl Malone, and they played every night, you know? It meant something to play every night," Holt said. "I saw that, and I said, 'If I ever make it to the pros, I want to be seen every Sunday. I want to be available every single Sunday, every single year for as long as I play.' I think that was kind of the driving force for me too."
Sure enough, Holt would play in 173 out of 176 possible regular season games in his career, making 158 starts.
"I was on Instagram (last Tuesday), on my live (stream), and a guy said, 'Man, you did all of that because you had God-given ability and used it better than anybody,'" Holt said. "And he was absolutely right. I had the God-given ability, but I had the work ethic to get there."
While he stayed healthy for the majority of those years, he also had a high tolerance for pain and refused to let knee issues in the latter part of his career impact his availability.
"That's some excruciating pain that I dealt with, but the game mattered to me, my teammates mattered to me," Holt said. "Competing and winning, that mattered to me. So you do what you gotta do."
Doing what he had to also included fending off the competition, which Holt admitted was a challenge. The competition he had on the team, however, did not fall into that category and was healthy.
Holt wanted to be in sync with Proehl, Bruce and Az-Zahir Hakim, so much so that he did everything he could not to let them down. In turn, it motivated him to play with a level of consistency that saw him reach at least 1,300 receiving yards in six straight seasons.
Holt also had eight consecutive seasons with at least 1,000 receiving yards and at least 80 receptions, a feat only Jerry Rice and Marvin Harrison – who have already been enshrined into the Pro Football Hall of Fame – have accomplished.
"I just didn't want to be the guy, when they cut on the film, and they said, 'Well, he's not going, he's going half-ass,' or 'he ain't playing' or 'he's not competing.' I did not want to be that guy, because those guys I was practicing and working with, they were not those guys."
He applied that same mindset when mentoring younger players who later joined the Rams and would carry it over into life after football.
Holt keeps plenty busy during the offseason with several opportunities to employ what he learned from his NFL playing days.
He spent the last four years coaching his son, Brayden, at Heritage High School in Wake Forest, North Carolina. While Brayden no longer plays football, he did end up at N.C. State like his dad, where he is currently a freshman studying engineering. What coaching Holt does still do that involves his family is for his two young daughters, who currently play soccer.
Working with his brother, Terrence, the two run The Holt Brothers Foundation, dedicated to supporting children who have a parent with cancer. It was created in memory of their mother Ojetta, who was diagnosed with lymphoma when Torry was 10 and Terrence 6 and passed away in 1996. Recently, the foundation held its seventh annual playoff party which raised more than $160,000 for kids with families impacted by cancer.
Outside of his family, he spent some time with NFL Network as an analyst after retiring in 2012. He also remains involved through the Senior Bowl – he'll be one of the NFL Legends captains again this year after doing so in 2019 – and the NFL Scouting Combine. He's also a representative for the Southeast region for the NFL's Legends Community.
Inspired by those same greats, one of Holt's main goals was simply to play football and be good at it. He hopes following their examples, as well as the ones modeled by those who helped him reach the NFL, will give him "the final stamp of certification" he seeks by being inducted into the Pro Football Hall of Fame.
"Hopefully people will see how well I played the game and how well I respected the game," Holt said. "It would mean a lot."