Rams Community | Los Angeles Rams - therams.com

#DrivingForChange is a team effort. Together, Castrol and the Los Angeles Rams are partnering to launch new initiatives that help promote sustainability across the teams operations, home and away.
With Castrol's support as an official sustainability partner, the Rams are taking steps designed to reduce their environmental impact, because small steps together can make a difference. The team is furthering its efforts this season with the help of Castrol by offsetting carbon emissions from the team's air travel to all nine away games. Castrol and the Rams also are partnering with Keep America Beautiful – the largest community improvement organization in the United States – to clean up waste in every city the Rams visit during the 2021 NFL season.
SUSTAINABILTY – WHAT WE CAN ALL DO
Driving change requires a team effort. That's why the Rams and Castrol are encouraging everyone to consider how small steps in their own lives can make a difference. The U.S. Environmental Protection Agency suggests some small actions that, when added up, can make an impact on the environment. Here are some of the actions that EPA suggests:
Buy used. Often, used items are less expensive and just as good as new.
Maintain and repair products so they won't have to be thrown out or replaced as frequently.
Borrow, rent or share items that are used infrequently.
Look for products that use less packaging. This can reduce waste and costs.
Buy reusable over disposable items. Look for items that can be reused.
By looking for greener products when you shop, you will be joining millions of Americans in helping protect human health and the environment.
Remember maintenance: A well-maintained car is more fuel-efficient, produces fewer GHG emissions, and is safer
Don't forget your tires: Under-inflation increases tire wear, reduces fuel economy, and increases GHG emissions
Give your car a break: Whenever possible, use public transit, carpool, walk, or bike
To learn more visit epa.gov →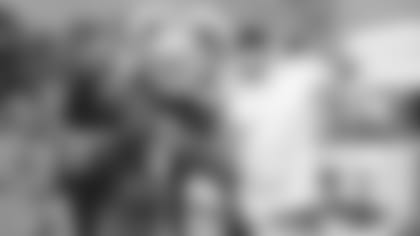 My Neck of the Woods
As a leader on-the-field and in the locker room, as well as a native Angeleno, Robert Woods is dedicated to improving his community by working to preserve the environment in his own backyard. Robert is bringing awareness to the importance of reducing our carbon footprints, leading by example, and partnering with Castrol to demonstrate how everyone can take small steps to help create a more sustainable future. This April, Robert is leading a community cleanup in Los Angeles with Keep America Beautiful and Castrol to kick off a season-long effort that drives for change. In My Neck of the Woods, Robert Woods takes fans on a tour of Los Angeles, visiting some of the city's most sustainable locations to learn about the importance of reducing your carbon footprint for a more sustainable future.
CARBON FOOTPRINT CALCULATOR
The Rams and Castrol are working together to offset carbon from the team's travel as they move across the country to away-games during the 2021 season. For fans looking to understand their carbon footprint, the Environmental Protection Agency has a carbon footprint calculator. It's free to use, only takes a few minutes to complete, and will show your personal carbon footprint compared to the US average. To learn more about your number, check out the Carbon Footprint Calculator here →